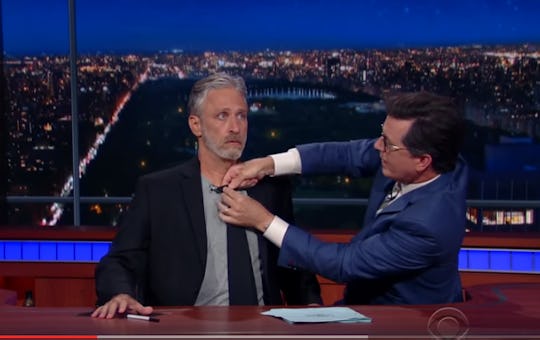 The Late Show With Stephen Colbert/YouTube.com
Jon Stewart Returned To Late Night TV Just To Slay The Republican National Convention
It was only for one night, but man was it worth it. Comedian, former Daily Show host, and professional Republican eviscerator Jon Stewart returned to late night television on Thursday night in a special post-RNC segment with Stephen Colbert. And in a scant 10 minutes on screen, Stewart managed to remind all his fans why he will forever be the king of political commentary.
Stewart and Colbert reunited during a special live telecast of CBS' Late Show with Stephen Colbert on Thursday, timed to cap the final night of the Republican National Convention. Just after Republican presidential candidate Donald Trump officially accepted the party's nomination and ended the party's three-day convention, CBS cut to the Late Night desk where Colbert was waiting to discuss Trump and all things RNC. Colbert opened with a brief (but tasteful) victory party to celebrate the resignation of FOX News chief Roger Ailes, a frequent target for Colbert on the Late Show and during his stint on Comedy Central's The Colbert Report.
"I wish I had someone to celebrate with," Colbert said. Then his surprise guest rose from behind the Late Show desk to share the moment. The two partied a bit at Ailes' expense, and Stewart asked if he could "talk about the election for a bit." Colbert handed over the desk, got Stewart a jacket and mic, and just let him go for it.
Take a look.
It was the kind of monologue that only Jon Stewart could deliver. He skewered Donald Trump (of course), the Republicans' contortions to accept Trump as their candidate, the contradictions over at FOX News, and the hypocrisy of Sean Hannity (who he nicknamed "Lumpy") for blasting President Barack Obama for all the attributes he now embraces in Trump.
Referencing Hannity's nickname for Trump — "the blue collar billionaire" — Stewart joked, "Trump does seem like the kind of guy you want sit down and own a fleet of airplanes with."
Stewart tied it all together with a sharp message for Trump supporters looking to "take back America":
This country isn't yours. You don't own it! You don't own patriotism, you don't own Christianity. You sure as hell don't own respect for military, police and firefighters.
This was Stewart's first visit behind a late night television desk since he went into retirement in early 2015. But it was the perfect moment for the popular comedian to make a comeback — however brief. Between Melania Trump's plagiarism controversy, Ted Cruz's non-endorsement, and Giuliani's on-stage ravings, the 2016 Republican Convention (indeed the entire Republican race for the White House) has provided to many wild moments for someone with Stewart's comedic talents to ignore. So he came back for one night. And it was totally worth it.