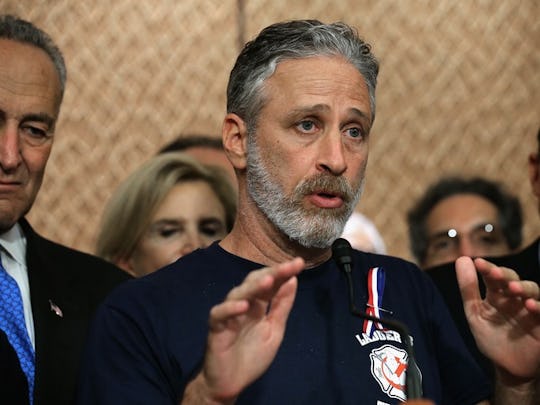 Chip Somodevilla/Getty Images News/Getty Images
Jon Stewart's "Short-Form Content" Deal With HBO Is Still A Mystery At This Point, But Here Are My Best Guesses At What He Could Be Doing
Great news for Jon Stewart fans (who have access to their parents' HBO password): On Tuesday, it was announced that Stewart's signed a four-year deal with the HBO network. So should we be expecting an edgier version of The Daily Show? Another Last Week Tonight, but without the charming British accent? Not so fast. Stewart will reportedly be producing "short-form digital content" for HBO NOW, according to their press release. That's a lot of buzzwords and not much actual information, if you ask me.
As Stewart himself admitted, the daily grind of a nightly show was pretty intense. "Appearing on television 22 minutes a night clearly broke me," said Stewart in the press release. "I'm pretty sure I can produce a few minutes of content every now and again." Okay, so it's not going to be a proper TV show. That much I understand.
Stewart will be working with "cloud graphics company" OTOY, using technology that redefines content creation and digital something something. I'm sorry; I don't have an IT degree and I really don't understand what these people do. I'll admit it, I just Googled "short-form digital content" and all I could find were pages and pages of articles quoting HBO's press release, and a link here and there about marketing. So what the heck is Jon Stewart's new job, exactly? My guesses:
Public Service Announcement Guy?
Remember when Rachael Leigh Cook wrecked a kitchen with a frying pan in the above PSA, and we were all, "OK, OK, I promise I'll never snort heroin"? Maybe Jon's bring back the old "This is your brain on drugs" routine. Come on, you know you'd watch it. And more importantly, you'd learn a thing or two.
YouTube Star?
HBO NOW costs $14.99 a month. Would you pay $14.99 a month to watch Jon Stewart play video games and talk in funny voices? Answer: Yes, you absolutely would. Listen, there's clearly a market for this stuff. Pewdiepie made $7.4 million last year, and his new book is currently number one on the New York Times' Best Sellers List.
Vine Star?
Maybe you're cooler than me, but Vine kind of mystifies me. Not sure WTF the above video's about? I don't know either, but it was posted by a teen called Nash Grier, and it has almost 111K likes. Antics like these have actually landed him a movie deal, but I'm pretty sure Jon Stewart could do better.
Beauty Vlogger?
Shut up, Manny Mua, there is some kind of sorcery at work here. No human can apply eyeliner that flawlessly, and the only way I'm going to believe you is if you teach Jon Stewart how to do it in a short-form digital crossover mass-marketing content video for HBO NOW. So please get on that.
So will any of my predictions come true? There's only one way to know for sure. Call up your mom, patiently listen to her talk trash about her friend Linda for 20 minutes, and then politely ask her for her HBO password. You know you're dying to find out.
Image: Chip Somodevilla/Getty News Images/Getty News