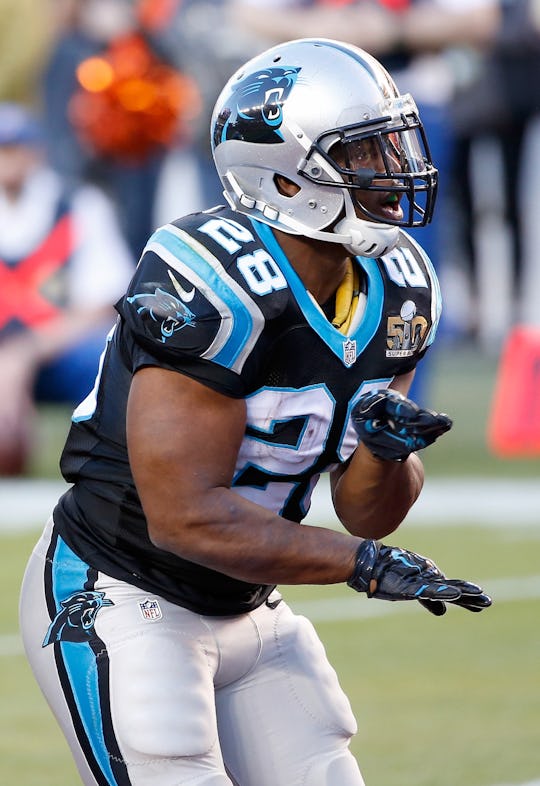 Sean M. Haffey/Getty Images
Jonathan Stewart Channels 'Grease: Live!' With Post-Touchdown Super Bowl Jive – VIDEO
There's so much for fans to celebrate during the Super Bowl — beer, wings, and one day of decent commercials. But nothing beats Jonathan Stewart's Grease: Live! touchdown handjive. The Carolina Panthers' player ran the ball and scored the team's first touchdown of the game early in the evening, jamming out in the end zone accordingly (as one does). He must have watched Fox's Grease: Live! last weekend while resting up for the game because his updated handjive from the musical was totally accurate and absolutely on point. Who needs to dab when you can jive?
Viewers were amazed at his moves. Twitter almost instantly became obsessed with his choice of choreography. Stewart is notoriously fun on the field. Earlier this season, he stole his teammate Cam Newton's idea of giving a touchdown ball to a young fan in the front row — and the girl totally freaked out, jumping up and down like she had just met Danny Zuco for the first time (fitting now, right?).
On Sunday, fans were equally as impressed with both Stewart's dancing and athleticism, with one Twitter user writing, "Jonathan Stewart might be small but that guy is fast. He reminds me of a mouse. Just call him Stewart Little. I love that movie, man." OK, fine, you can call him Stewart Little all you want, but he could definitely give Aaron Tveit a run for his money next time there's a live musical.
That guy can play football and bust a move. Tveit ought to watch his back from now on.