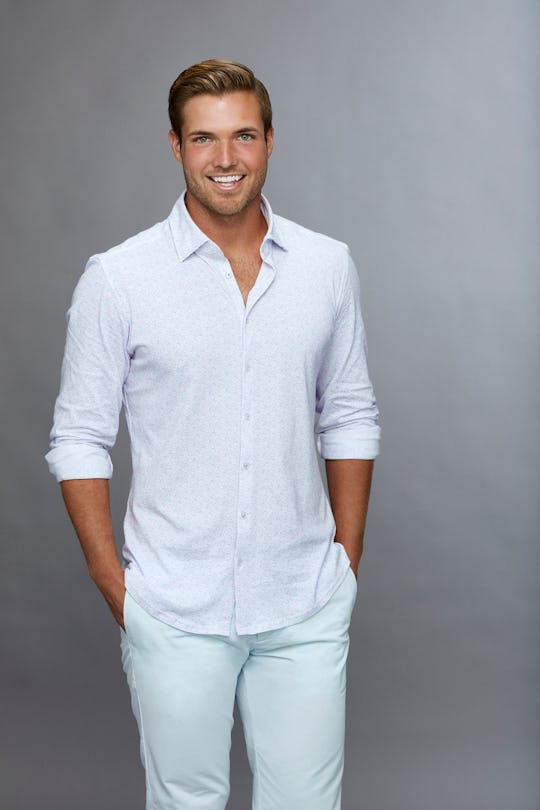 Craig Sjodin/ABC
This 'Bachelorette' Contestant Claims He Has Over 4,000 Tinder Matches
There are always those Bachelorette contestants that fans consider... jokes, to say the least. This year that honor goes to male model, Jordan, who bragged about his Tinder matches on the Monday, June 10 episode. Jordan claimed he had over 4,000 Tinder matches but Bachelor Nation thinks he's totally bluffing.
Every season, there's a "villain" that the other contestants hate — and producers want viewers to hate as well (aka, it needs to be someone with good hate-watch potential). Last year, this was Lee Garrett, who caused a feud on The Bachelorette (and said some racist and sexist things on social media before the show to boot). Now, some fans are saying this year's Bachelorette villain is Jordan. TV Guide, for example, named Jordan and Lincoln as possibilities for this season's villain.
Thankfully, while Jordan hasn't been as socially problematic as Lee, he definitely has some villain vibes. For one, he's incredibly arrogant and has been since he waltzed in the mansion. Not only has he walked around in his underwear, but he also picks fights. On Monday's episode especially, he reamed David out after David went to Becca to say Jordan may not be here for the right reasons.
But what made David think this about Jordan? (Well, besides the walking around in his underwear and blue steel looks and such.) After the spa group date, the members of the date were talking and Jordan mentioned that he received a notification that he had over 4,000 Tinder matches in the year 2017. Yes, Jordan claims that he has an enormous amount of matches and a 100% swipe success rate (how is that even a thing? How do you know?) Umm, I use Tinder, and 4,000 matches seems nearly impossible. What seems more impossible is getting a notification of that from Tinder. What!?
I call BS, and fans on Twitter immediately did as well:
Even Reality Steve wanted to get in on the...ahem, action:
It seems a bit off to me that Jordan would even bring this up. If it were true, why talk about it on The Bachelorette? Yes, he didn't brag about Tinder to Becca directly but it would get back to him eventually — if not from another contestant telling her (which of course would happen, they're not there to make friends!), then from producers telling her! Dude is on camera, did he not think of this? As a ~male model~, he should know how to act on camera.
But here's the thing: is it actually true? Like I said, I use Tinder myself, and 4,000 matches seems not only excessive but impossible. Perhaps Jordan pays for Tinder — I don't, so I don't know if Tinder Plus includes a notification when you hit a number of matches and breaks down your "swipe rate." Regardless, what the hell, Jordan?
Jordan strongly reminds me of Chad Johnson, the villain from JoJo's Bachelorette season. Like Jordan, Chad was obsessed with his looks and easily fought with other contestants. If Jordan's Bachelor Nation trajectory is like Chad's, a season of Bachelor in Paradise may be in my future. Oh, who am I kidding, it totally is. After that, though, Chad pretty much faded into obscurity. I'm not sure if Jordan would let that happen — especially considering he's a ~Wilhelmina model~ and that's a big deal — but I can see that being the case. No matter what happens, it was probably a dumb move to brag about Tinder, of all things, on The Bachelorette. But hey, if he didn't he would just be expressing "disingenuinity" and lack "professionality"!