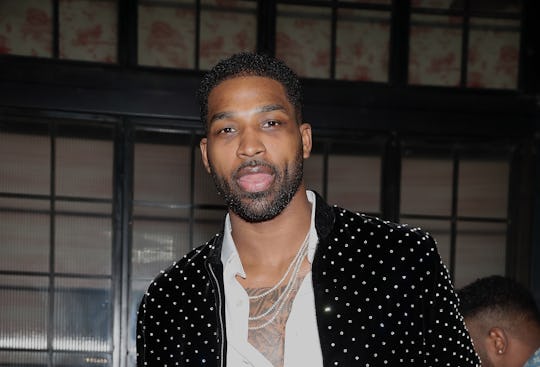 Cassidy Sparrow/Getty Images Entertainment/Getty Images
Tristan Thompson's Ex May Have Just Spoken Out About *Those* Rumors He Cheated On Khloé
On Tuesday evening, social media was abuzz with reactions to footage that allegedly shows Cleveland Cavaliers player Tristan Thompson — also known as the father-to-be of Khloé Kardashian's baby — entering a hotel with a woman who is most definitely not his pregnant girlfriend. Thomson and Kardashian have not responded to Romper's request for comment. This story might seem a bit familiar to anyone who's been following the couple's history, but the one person who might be expected to celebrate this troubling story is refusing to gloat. Jordan Craig's response to cheating allegations about Tristan Thompson's are just another example of how she's handling her messy family with grace and class.
Thompson started dating Kardashian, in September 2016, when Craig was seven months pregnant with the couple's first child, Prince Oliver. It's unclear if Thompson and Craig were still in a relationship when he met Kardashian, and nobody involved will comment, which of course only adds fuel to the gossip fire. If he did cheat on Craig while she was carrying his baby, and then repeated that behavior with Kardashian, you might expect Craig to feel vindicated, but she took the high road in an Instagram story posted just after the news broke, according to People:
If you respect yourself and you respect others, you would never make light of the misfortune of anyone, nor would you feel indemnified when it comes at the expense of others. Wishing peace for everyone.
While Kardashian is staying at Thompson's place in Cleveland awaiting the birth of their daughter, who's due any day now, he was in New York City for a basketball game against the Knicks over the weekend, and paparazzi cameras caught footage that appears to show him with another woman at the PH-D Lounge in Manhattan. TMZ also published a video, claiming it shows the same couple entering a hotel later that night, and the website also obtained security camera footage that allegedly shows Thompson engaging in some pretty raunchy behavior with two women in a Washington D.C. hookah bar last October.
If these videos are legitimate, this is horrible news for Kardashian, and it also lends more credence to the rumors that Thompson took up with her earlier than the couple wants to admit. While Kardashian's official story is that they were set up on a blind date in late September 2016 (just days after Craig confirmed her pregnancy), People reported that the couple vacationed together in Mexico earlier that month before going house hunting back at home. And they were definitely in the same place at the same time before that, according to VH1, because they both attended the wedding of Craig's cousin, Eniko Parrish, and comedian Kevin Hart a month prior.
Fans of Craig — as well as Thompson and Kardashian's haters, and people who just love to stir the pot, presumably — have been itching to hear Craig's take on the whole thing for ages, often commenting on her Instagram posts to try to bait her into a feud. Hell, even Thompson's own father seems to be Team Craig; according to BET, he left a message on a photo from her baby shower in October 2016 saying he hoped seeing the picture would "open my son's eyes." But Tuesday's post about respect and peace, while still slightly vague, is still the closest she's ever come to explicitly addressing the matter.
Gossip-hungry people have been grasping at straws for months, but Craig has staunchly refused to be dragged down with that kind of nonsense. The day after Kardashian's baby shower last month, The Hollywood Gossip (and many other outlets) claimed that Craig "shaded" her successor, but she actually did the opposite; she posted an Instagram calling for "Less Bitter, More Glitter," adding, "Positivity always wins. Remember that." If you were hoping for a feud, look somewhere else, folks.