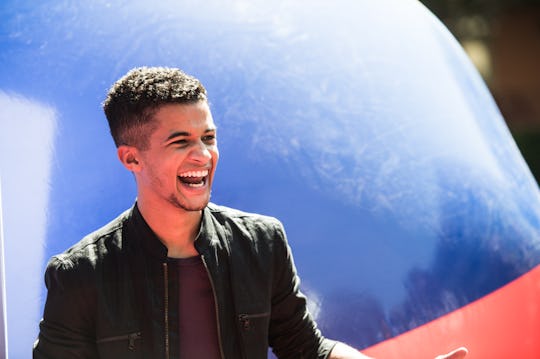 Michael Buckner/Getty
You Need To See Jordan Fisher's 'Moana' Performance On 'DWTS'
Everyone's favorite night on Dancing with the Stars is Disney Night, and for good reason. It's always a ton of fun. And it's twice as much fun when the stars have some sort of connection to the song they're singing to. For example, Jordan Fisher's Moana performance on Dancing with the Stars extends far beyond just Disney Night, which lent a special element to his dance.
While Dwayne "The Rock" Johnson plays Maui in the movie Moana and so performs the song "You're Welcome," Fisher also has his own version of the jam that he sings with songwriter Lin-Manuel Miranda that is featured on the film's soundtrack. They also made a music video of themselves performing the song that is so charming, it's almost easy to forget that the lyrics are about a demigod bragging about creating the world. "I know it's a lot: the hair, the bod! When you're staring at a demigod," Fisher croons while gazing pensively out of the window of a coffee shop, while Miranda on the other side of the split screen whips out his phone to send Fisher a text. Silliness aside, Fisher really does sing his version of the song beautifully, which is probably why he and partner Lindsay Arnold performed their Foxtrot to this song.
Fisher also performed his version of the jam at the 2017 Radio Disney Music Awards, which in my opinion makes him a bonafide Disney Star. I'm almost certain he'll be tapped to lend his not inconsiderable voice talents to a Disney cartoon in the very near future. I will certainly go see that movie, by the way.
While Fisher did not sing on Dancing with the Stars (that would be an entirely different show) he did bring his usual grace and charisma to his performance, which was about as lovely as anything he's performed before. Before the show aired, Arnold told E! "It's the first time we're dancing to his song, a song that he sang as well," Lindsay said. "I'm so excited to dance to it because it's just amazing." Coming off the highest score in the competition yet, a near perfect 29 out of 30 for the "Most Memorable Year" dance, the pressure was on. But these two did not disappoint.
After an unbelievably charming Foxtrot, the couple earned the first perfect score of the season. And let me tell you it was well deserved. Though if they thought that the pressure was high before, now it's going to be even higher. But somehow, I think they'll manage to rise above it. After they got their scores, host Erin Andrews asked them if they ever have any challenges at all (since they make all of this look so easy). Arnold said, "Oh yeah" with a laugh before explaining that Fisher is "such a perfectionist." Fisher admitted, "We have fun in rehearsals but I definitely tend to be a little hard on myself." Well, it's hard to beat perfect.
In the video package before the performance, Fisher explains that he started working for Disney when he was 16, making the whole company a part of his family. "These are my people," he said. It was cute. But not nearly as cute as the dance itself, which charmed everyone. "You are unstoppable. Your talent is so undeniable," judge Carrie Ann Inaba said. The other judges praised the way Fisher blended excellent technique with a modern style. Fisher said he was thrilled and honored to be able to dance to his own song, but he was probably even more thrilled when the dance earned him that 30 out of 30. "Thank you, Lin!" he said enthusiastically. I'd like to echo that statement on behalf of everyone.
Watch Romper's new video series, Romper's Doula Diaries:
Check out the entire Romper's Doula Diaries series and other videos on Facebook and the Bustle app across Apple TV, Roku, and Amazon Fire TV.