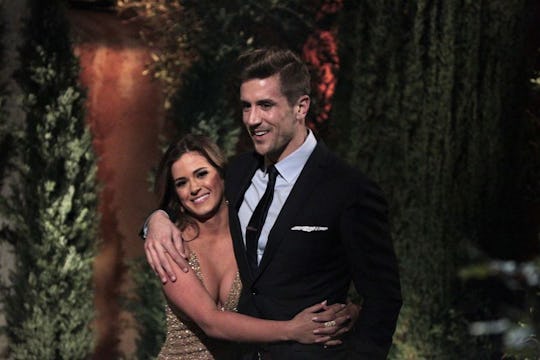 Rick Rowell/ABC
Jordan Gets The First Kiss On 'The Bachelorette,' Proving He's A Frontrunner
JoJo Fletcher dove into a pool of eligible men (figuratively, though the season is still young) for her very own season of The Bachelorette, which premiered on May 23rd. After getting her heart stomped on by Ben Higgins during Season 20 of The Bachelor, JoJo is back in the game, and she wasted no time testing out chemical compatibility once the sparks started flying. Jordan gets the first kiss on The Bachelorette, which is an impressive feat for being a mere one dude in a sea of 26 babes.
Jordan is a 27-year-old former pro quarterback from California (and the younger brother of Aaron Rodgers), who played for the Jacksonville Jaguars, the Tampa Bay Buccaneers, and the Miami Dolphins before retiring and becoming a sports media personality. After carving out his spot as a clear frontrunner with JoJo, he goofed by leaving her to another guy without going in for the kiss when they were both clearly feelin' it. Luckily, Jordan circles back later and manages to land a really, really good one. (Thank goodness for second chances.)
Unfortunately, he technically wasn't the very first kiss. There was a horrifically awkward peck between Will and JoJo just before Jordan came to triumphantly sweep her away with his superior lips. Needless to say, that was Will and JoJo's first and last kiss.
For JoJo's part, the kiss with Jordan is a super promising sign of her openness to the process. Her interest in smooching this early on makes it seem like she's really moved on from her last heartbreak and is ready to find love elsewhere. Plus, it's awesome that she felt such a sparkly physical attraction so early on! It may not be The Bachelor/Bachelorette's biggest challenge (thanks, producers), but it's often half the battle in real life.
While it would certainly be the polite thing to do for Jordan not to kiss and tell to the other dudes, the jealousy, alpha-hood, slut-shaming, and host of other bad Bachelorette contestant behaviors prompted by an early kiss could bring the jerks out of the woodwork, making JoJo's first rose ceremony that much easier! Then again, the high volume of guys who get naked and drunk on the very first night might make the whittling down process easy, too.