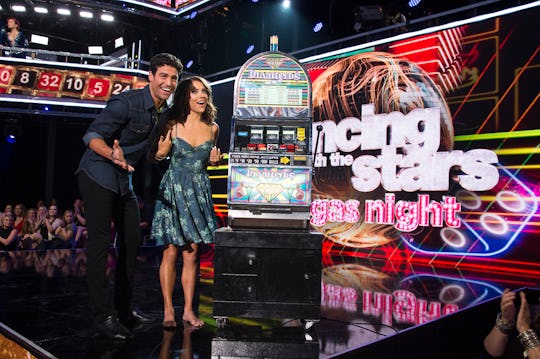 ABC/Eric McCandless
Grocery Store Joe Had This *Very* Special Guest on 'DWTS'
After three weeks of fun, flashy dances, tonight's the night Dancing With the Stars fans have been waiting for — trio night. Yep. Week four gets you three dancers for the price of two. Talk about a bargain. The third dancer joining each pair might be a former DWTS contestant, colleague, or friend. In Bachelor alum "Grocery Store" Joe's case, it's his Best Bachelor Friend Forever. Jordan Kimball Joined BFF Grocery Store Joe on DWTS Trio Night and Twitter was seriously on top of it's posting game.
Though Joe [Amabile] recently told Entertainment Tonight Jordan knows how to work it, only time will tell. Judges scored the trio a set of 5s which, if you know DWTS, that's not great. "He's very confident. We're going to paint the board with 10s." Pro choreographer, Jenna Johnson gave Joe and Jordan a "sexy" salsa number to Right Said Fred's "I'm Too Sexy" and, well, the jury's out on if it was received as "sexy" or not (though the majority seems to agree it was not). Johnson said in the same ET interview "I don't think people are going to expect what we're going to be doing. I wanted to do something that just made these two shine, and the ladies are going to go crazy."
Some people were all for the awkward, clunky dance (that I thought was a-freakin-dorable). I mean, Twitter can be a supportive space sometimes. Especially when it comes to reality show-loving fans. Bachelor Nation always shows up for theirs and this is kind of huge. However, as the weeks progress, it's getting harder for poor Joe to keep up with those moving far past him in terms of ability. As one of the more lovable and memorable contestants in Bachelor franchise history, you want to root for him but at the same time, it's often obvious he can't match some of that.
Lucky for the former grocer, this dance was just as much for BFF, Jordan as a means of healing. After a very public breakup with Bachelor In Paradise contestant and ex, Jenna, Jordan's finally ready to get back out there and dancing with buddy, Joe was the perfect way to do it. "You gotta show people that the best thing to do whenever you're going through a rough time is to go to your friends and try to get out there and bust a move," he said. "Right now, Dancing With the Stars is very relevant in my life. I'm a big Saturday Night Fever kind of guy, and that's what we're bringing to you this Monday."
If there's one thing you can count on during a run of DWTS, it's the internet to bring you the cold, hard truths. Twitter's already buzzing about Monday night's performance: the good, the bad, and the, well, you'll see.
I think I muttered the same words but couldn't look away at all the denim. It was precious and perfect in its own weird way.
Agreed.
It can't be topped in terms of "this is the most entertained I've been in years, probably."
Other Twitter users were, uh, kind of harsh.
Maybe this will be Joe's last week on DWTS, maybe not. He can't technically dance as well as the others but id you see the overalls or the way Jordan's shirt wouldn't rip all the way off? Worth watching every second.