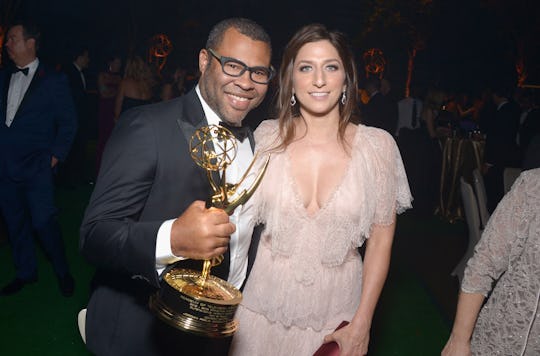 Matt Winkelmeyer/Getty Images Entertainment/Getty Images
Jordan Peele & Chelsea Peretti Are Officially Parents
They announced the news of their pregnancy earlier this year (with a little shout out to Beyoncé!), and now Jordan Peele and Chelsea Peretti have welcomed their first child. According to E! News, the Brooklyn Nine-Nine star gave birth to a son named Beaumont Gino Peele on July 1, but the new parents opted to keep the details of his arrival quiet until now. The private couple seemed to take a pretty relaxed approach to the pregnancy: according to People, Peele and Peretti decided to publicly share the news of the pregnancy on social media only once — she was far enough along that it was obvious anyway — and the post was a pretty far cry from the work of art released by Queen Bey on Instagram three days earlier. On Feb. 4, Peretti posted a mirror selfie of herself, showing off her growing belly in a grey t-shirt, along with the caption, "Beyonce schmonce."
It's not the first time though, that the couple has kept big news private. According to Us Weekly, Peretti and Peele became engaged in November 2015 after three years of dating, and Peretti announced the news in a tweet that said, "My fiance (lololol) #JordanPeele proposed to me last night during the family talent show lolol." Then, in April 2016, the actress shared via Instagram that, actually, she and Peele had eloped "a bit ago," with their dog serving as the witness.
In March, Peele told People that he was "so excited" about impending fatherhood, and that Peretti's pregnancy was "surreal and cool," adding that his wife was "just a very beautiful and spectacular pregnant person." For her part, Peretti didn't share a ton about her pregnancy publicly, although according to E! News, she did let her Twitter followers know back in May that she was definitely not OK with the kind of unsolicited commentary strangers inexplicably feel entitled to direct towards pregnant women. In an all-caps tweet, Peretti wrote,
IF U C A PREG WOMAN OUT & ABOUT & FEEL INCLINED 2 SHOUT SOMETHING IN HER FACE ABOUT HOW SHE LOOKS — GET READY FOR A SHOUT BACK ON UR LOOKS.
One thing that does seem safe to assume though is that Peretti and Peele's life as new parents will probably be filled with a lot of laughs. When asked about the couple's baby-to-be, actor Keegan-Michael Key, a close friend of Peele, told E! News he expected the baby was destined to inherit his parents' senses of humor. Key said, "It's going to be a funny kid. That's going to be a funny funny kid."
Peele and Peretti have yet to share any photos or updates about their son on social media, and it's possible that they don't actually plan to at all. But either way, it's great news for the hilarious couple, and hopefully they having a great time as they adjust to life as a new family of three.