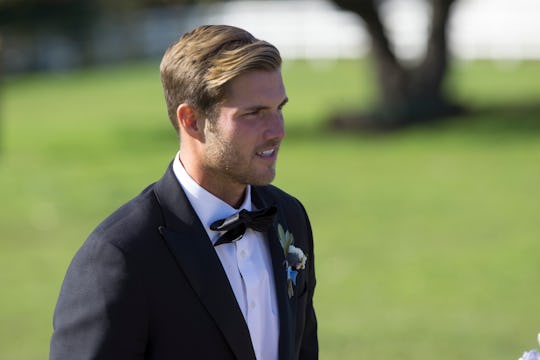 Paul Hebert/ABC
Jordan From 'The Bachelorette''s Instagram Is *Exactly* What You'd Expect
Already, it's become very apparent that Jordan is the comic relief this season of The Bachelorette. Which obviously meant that I had to scour Instagram to see what this "pensive gentleman" shares on his social media accounts. So what was Jordan's Instagram like before The Bachelorette and what can we learn from it? His profile description says that his page is "not for everyone," however I wholeheartedly disagree.
The Wilhemina model posts on Instagram a lot, and it's mostly selfies. OK, that's an understatement: It's all selfies. Since the premiere, he's posted about 10 pictures, including screenshots of the episode. Before that, it's mainly all him posing in well lit rooms or sipping rose in white shorts.
There are likely two people in the world. Those who find Jordan to be inherently irritating and those who just adore him. Like, just judging from all of his pics on Instagram, you can tell he's the kind of guy who says things like, "I wanted [Becca] to hear the tapping of the shoes I wore because it's like the heartbeat of a gentleman. Hopefully, the fashion does make me unique... I spent six hours hand-selecting everything. Just by me wearing gray, I will stand out." What a character.
Just in case you, like me, can't get enough of this guy, here are some of his Insta posts from before he was cast on The Bachelorette.
The Cupcake, Though
Editor's Note: The Instagram post has since been deleted.
Super Pensive
Editor's Note: The Instagram post has since been deleted.
Car Selfies Are Sort Of His Thing
Always Working On The Mile
And Enjoying Life
It's Not Just All About Him, Though
He's Not *Just* A Pretty Face
See? People Like Him
And This Was His First Post Ever
Jordan didn't get the first impression rose, though definitely made one on the other guys. His obsession with his clothes and the Chicken Guy might have been the very best thing about this season, though it does show that he might have been more into upping his follower count than falling in love with Becca.
Then again, Chris Harrison told People that he's one of five guys to watch this season. He said:
He's a model, and he's all about the model life. You'll learn a lot about the model life — the pitfalls and the hurdles. And Jordan wears underwear to a rose ceremony. He's a very confident, good-looking guy, but he's also very much a model. He brought his A-game.
The 26-year-old is also likely the main reason that Harrison calls this season the most ridiculous. The host told Entertainment Tonight that there's a lot on store for Bachelor Nation:
Maybe the most ridiculous fight you've ever seen in the history of our show, which is saying a lot…" It's just magnificent to watch. It's going to be one of those [seasons where] you're watching through your fingers because you're embarrassed for everybody involved but you can't stop watching.
Luckily, Becca can handle all the personality that Jordan and the other guys bring. Harrison added that she's not just "a nice girl," although she is that, too. "You're really going to get a better glimpse of the strong, independent woman she is. I think people feel like, 'Oh, she's just this nice pushover.' She is not. She's a badass woman that can handle her own, trust me. And I'm very defensive of my bachelorettes. She doesn't need it. She took care of herself," Harrison said of her.
She certainly knows how to manage all of the egos in the mansion, and Jordan is one of them. It's hard to imagine him being one to watch, but Becca has said that she ended up falling for two guys throughout her "journey," so there's always a chance. Even if she doesn't end up liking him, he's already provided the country with a wealth of unforgettable quotes. A man who takes six hours to dress deserves a shot.