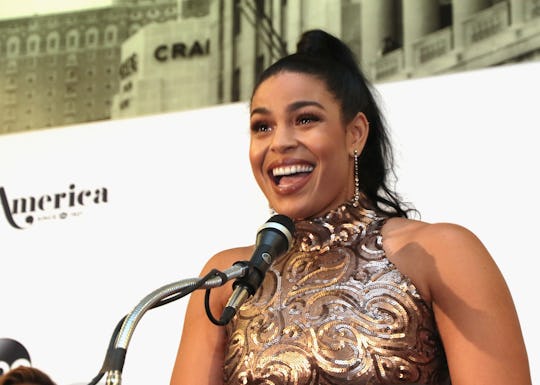 Donald Kravitz/Getty Images Entertainment/Getty Images
Jordin Sparks Can't Wait To Embrace "Every Single Curve" Of Her Pregnancy Body
The body positivity movement has been incredible for women everywhere who are learning to embrace and love their bodies at every stage. And after Jordin Sparks revealed that she can't wait to embrace her pregnancy body, it's another reminder that a woman's body is beautiful — whether she's pregnant or not, curvy or thin, or anything in between. And now that Sparks is back in the spotlight, it's safe to say that the world is totally on board for this kind of positivity.
Yes, Sparks hasn't been around much recently. That is until yesterday, when she reemerged to shock the world with her announcement that she's pregnant with her first child and due next spring, according to People. Oh, and she also secretly got married in July, the magazine reported. The singer revealed the news of her marriage and pregnancy on Tuesday, and since then, she's also decided to speak up about how much she's loving her changing body.
Speaking to People, Sparks explained how much she's loving this chapter in her life, and all that comes with it, telling the publication:
I'm excited to accept every single curve. I've always loved my curves. Now I have different ones and I'm excited about them.
Seriously, how awesome is that? Sparks recognizes that her body is in the midst of creating something incredible — a living, breathing, human being — and all of the changes that she's experiencing are part of that creation.
And honestly, her words are so necessary right now. Women deal with so much pressure about their bodies. In fact, according to DoSomething.org, about 91 percent of women "are unhappy with their bodies and resort to dieting to achieve their ideal body shape." Meanwhile, the organization notes, only 5 percent of women "naturally possess the body type often portrayed by Americans in the media." And that's a reality that's just not OK, and clearly Sparks is not about continuing these harmful ideals.
On top of her remarks about loving her pregnancy body, the 27-year-old also revealed that she has been all about making it work while her body grows and changes to make way for the couple's little one.
"For the past month, it's been this in-between stage where I've been taking a hair tie and clipping the hole of [my] jeans onto the little buckle," she told People. And I'm guessing that just about every woman who has also been pregnant can relate to this little scenario. But, there comes a time when hair ties just won't cut it, and you've got to be comfortable. So, what did Sparks do when this problem arose? As she explained to the magazine:
... that stopped working and I was just like "Babe, can I wear your sweatpants?" I've been wearing his sweatpants all the time.
While your body is forming another human body inside of you, you really deserve to be as comfortable as possible. And considering how much of a whirlwind these past few months have been for Sparks and her new husband, Dana Isaiah, it's totally understandable for her to want to be relaxed sometimes.
Seriously, those two have been busy. According to HuffPost, "The couple, who started dating in April, eloped during a Hawaiian vacation surrounded by a small group of friends." And then, just a month later, they discovered they were expecting their first child together.
Speaking of her feelings for Isaiah, Sparks told People she had a gut-instinct early on that they were meant for each other. "When I'm with him, I feel comfort and safety and calm and peace, and those aren't things that I normally felt. So it was a little wake-up call for me."
Also considering the fact that she told the magazine that "her new husband has been very supportive throughout her pregnancy and he's also a fan of he "new curves," it's clear the two are a perfect match.
Check out Romper's new video series, Romper's Doula Diaries:
Watch full episodes of Romper's Doula Diaries on Facebook Watch.