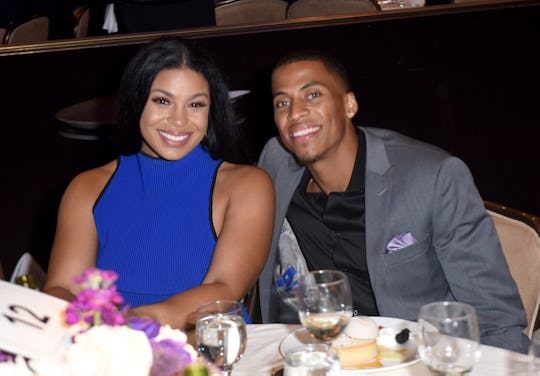 Vivien Killilea/Getty Images Entertainment/Getty Images
Jordin Sparks Is Pregnant With Her First Child & Also Married, OMG
Surprise! American Idol winner Jordin Sparks, 27, has had a busy year. Back in 2007, the then-17-year-old singer walked away with the competition's grand prize. Now, it's clear she's all grown up because Jordin Sparks is pregnant with her first child and also married!. And somehow, she managed to keep all of this exciting news quiet — until now.
"We're both really excited," Sparks told People, of she and her husband Dana Isaiah, 25. "He's been like, 'I want to shout it from the mountain tops!' We're really proud to be married to each other and to be celebrating this." The couple will welcome their baby late next spring, Sparks told the publication.
According to People, Sparks initially met her husband's family in Houston in February, when she was there with her charity campaign I'm M.A.D., Are You? It was Sparks' mother and Isaiah's mother who ended up connecting the couple via a group text chat. Since Dana is establishing a career in modeling, he had been considering a move to the West Coast. "My mom was trying to get [Jordin] to talk me out of moving to L.A. because she's experienced the industry out here," Isaiah told People. "It wasn't like, 'We want you guys to date.'"
Apparently, the pair bonded right away over things like their Christian faith and close families. Dana ended up flying to Los Angeles after he and Sparks had been talking daily for about a month. There, on Easter weekend, is when he finally met his future wife face-to-face for the first time. "A couple days after we had actually met, I was like in my head 'That's going to be my husband! That's my husband right there,'" Sparks told People. "When I'm with him, I feel comfort and safety and calm and peace, and those aren't things that I normally felt. So it was a little wake-up call for me." Too sweet!
E! Online reported the couple eloped on July 16 while vacationing in Hawaii with a small group of friends. The couple surprised their families with the happy news. Then, roughly a month after their low-key nuptials, Sparks found out she was pregnant. "It's been really crazy because everything changes. Once we got over the initial shock of it, now again just like it is with the marriage, to be able to share that this amazing thing is happening, it's such a great thing," told People. "We did this together!"
It's funny sometimes, isn't it? When a person isn't necessarily looking for love, it has a way of sneaking up and smacking them in the face. At least that's the way it happened for this American Idol alum. Over the past couple of years, Sparks had experienced some high-profile splits — first, from Jason Derulo and then from Sage the Gemini. But now? Sparks revealed she couldn't be happier.
"I'd gone through a crazy time last year, so I was just like 'You know what? I'm good. I'm going to stay single. I'm just not going to look,'" Sparks told People. "It's amazing that that phrase, 'When you don't look for it, that's when it comes' … he just showed up at my door." She continued:
I'm extremely grateful because life is nuts. This is the best part so far because I have [Dana] and I have this little one and I have a new family. I'm the most content I've ever been in my life.
What an incredibly sweet story. I'm so excited for these two lovebirds and their baby news. Although Sparks hasn't yet revealed the sex of their first child I have a feeling she and Dana will be sharing this exciting news soon enough.
Check out Romper's new video series, Romper's Doula Diaries:
Watch full episodes of Romper's Doula Diaries on Facebook Watch.