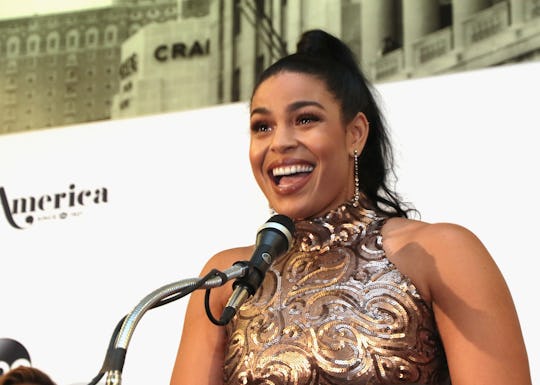 Donald Kravitz/Getty Images Entertainment/Getty Images
Jordin Sparks Just Revealed The Sex Of Her Baby In The Cutest Way
Dedicated American Idol fans probably let out a collective "squeee!" on Nov. 14 when Jordin Sparks revealed she is married and expecting her first child — both somehow under the public radar. At the time, the singer shared that she and new husband, Dana Isaiah, had actually eloped back in July. So it's pretty impressive they managed to keep it a secret from for so long. Now that fans are up-to-speed on the star's exciting news, the mom-to-be isn't wasting any time spilling even more deets on the pregnancy. In fact, Jordin Sparks has revealed the sex of her baby in the cutest way.
On Thanksgiving, Sparks and Isaiah gathered with their families for a gender reveal party, People reports. But are they seeing blue or pink? "We're beyond excited to be having a little boy," the parents-to-be exclusively told People in a statement. "We cannot wait to meet him and love him so much already!" Sparks also took to Instagram to share a photo of the excited couple, grinning ear-to-ear, while displaying handfuls of blue streamers. She wrote:
IT'S A BOY!!! We have so much to be thankful for and this is definitely at the top of the list! @_danaisaiah's gonna have a little mini me running around! We can't wait to meet him. We love you lil man!
Since news broke of Sparks' marriage and pregnancy, she has shared one other photo of herself and Isaiah via Instagram. And they are just too adorable together.
So how, exactly, did Sparks go from a single lady to a wife and expecting mama seemingly overnight? It was certainly a whirlwind romance. People reports that she actually met her husband's family first back in February while Sparks was in Houston for her charity campaign I'm M.A.D., Are You? Isaiah's mom and Sparks' mom connected the pair via group text, since Isaiah was pursuing a modeling career and had been thinking about moving to the West Coast. The rest is history.
The pair quickly bonded and began exchanging texts every single day, People reports. Isiah ended up flying to Los Angeles after he and Sparks had been talking daily for about a month. "A couple days after we had actually met, I was like in my head 'That's going to be my husband! That's my husband right there,'" Sparks told People. "When I'm with him, I feel comfort and safety and calm and peace, and those aren't things that I normally felt. So it was a little wake-up call for me." Seriously, how sweet are these two?
E! Online reports the couple eloped on July 16 while on vacation in Hawaii with a group of friends. Roughly a month later, Sparks found out she was pregnant. "It's been really crazy because everything changes. Once we got over the initial shock of it, now again just like it is with the marriage, to be able to share that this amazing thing is happening, it's such a great thing," told People. "We did this together!"
The couple will welcome their baby in late spring of 2018, according to E! Online. "We're both really excited," she said. "[Isaiah]'s been like, 'I want to shout it from the mountain tops!' We're really proud to be married to each other and to be celebrating this."
Sparks and Isaiah are clearly over the moon about their little bundle of joy. I wonder if either of them pictured their lives going in this direction a year ago? Although 2017 has undoubtedly been a huge year for the lovebirds, I have a feeling 2018 will be even more life-changing! "I'm extremely grateful because life is nuts," Sparks told People. "This is the best part so far because I have [Dana] and I have this little one and I have a new family," the American Idol winner said. "I'm the most content I've ever been in my life." Congrats on your baby boy!
Check out Romper's new video series, Romper's Doula Diaries:
Watch full episodes of Romper's Doula Diaries on Facebook Watch.