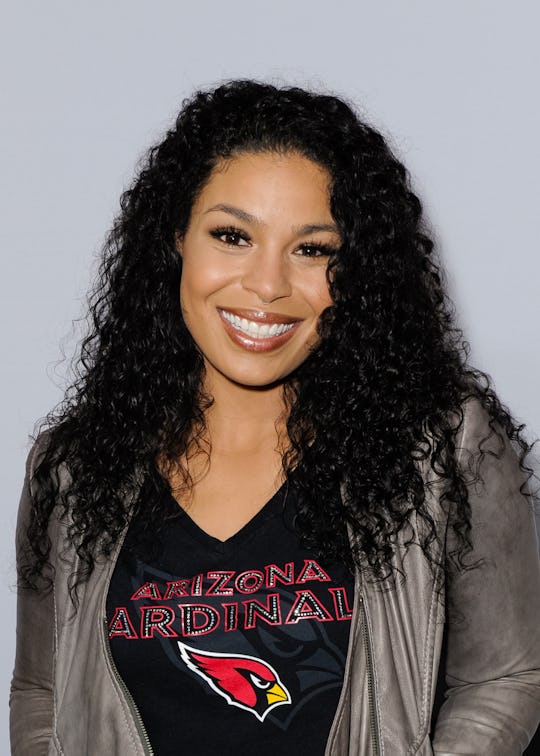 Noel Vasquez/Getty Images Entertainment/Getty Images
Jordin Sparks Says Her Baby's Heartbeat Is The "Ultimate" Sound, & It's So Relatable
Pregnancy is one of those things that seems like NBD — until it's you or your partner who is carrying a child. Then, the fact that it's actually happening to you is so surreal and the "miracle" of creating life is so wondrous, that you're simply in awe of it all. And seeing your baby on an ultrasound screen, watching your belly grow, feeling those first kicks? All of it is just too cool. Celebrities aren't immune to being blown away by their pregnancies, either. In fact, Grammy-nominated singer Jordin Sparks says her baby's heartbeat is the "ultimate" sound, and parents can totally relate.
On Friday, Sparks posted a video on Instagram that is eliciting a collective "awwww" from her followers. That's because the mom-to-be shared a clip of herself listening to her baby's heartbeat. And guys, her reactions is so precious. In the video, her healthcare provider searches for Sparks' baby's heart tones while the singer has her eyes closed with a serene expression. As soon as the doppler starts with its rhythmic whooshing, Sparks gives the biggest smile. "I've heard many beautiful noises & sounds in my short time on this earth but this...this is the ultimate," she captioned the post. "How sweet the sound! Daddy and I love you so much Lil man. We're ready for you when you are!"
Many of Sparks' Instagram followers seemed to agree with this sentiment. "Yess!! And you'll never ever forget it. Congratulations mama!!" one person commented."
Another Instagram user wrote, "The Best sound every Mum and Dad could ever hear."
Yet another commenter chimed in with, "It truly is. There is NO other sound like it. It just melts your soul. It's the most perfect sound in the world to my ears. "
If you remember, Sparks revealed a double-whammy surprise to her fans back in November when she announced that she wasn't only married to Dana Isaiah, but expecting her first child with him. "We're both really excited," Sparks told People at the time. "He's been like, 'I want to shout it from the mountain tops!' We're really proud to be married to each other and to be celebrating this.
But how did the parents-to-be meet anyway? The American Idol alum actually het her husband's family in February, 2017, while in Houston for her charity campaign I'm M.A.D., Are You? Isaiah's mother ended up connecting the two via group text. "My mom was trying to get [Jordin] to talk me out of moving to L.A. because she's experienced the industry out here," Isaiah told People. "It wasn't like, 'We want you guys to date.'"
The duo bonded pretty quickly and wound up talking every day for a month (aww) before finally meeting in person for the first time on Easter weekend, 2017. "A couple days after we had actually met, I was like in my head 'That's going to be my husband! That's my husband right there,'" Sparks told People. "When I'm with him, I feel comfort and safety and calm and peace, and those aren't things that I normally felt. So it was a little wake-up call for me."
As E! Online reported, Sparks and Isaiah eloped this past July while in Hawaii with a group of friends — and then surprised their own families with the news of their marriage. It was about a month later when they found out they were expecting their first child.
On Thanksgiving day, Sparks and Isaiah gathered with their families for a sex reveal party, ET Online reported. The excited parents-to-be shared on Instagram the same day that they're expecting a baby boy — complete with a photo of themselves holding blue streamers.
IT'S A BOY!!! We have so much to be thankful for and this is definitely at the top of the list! @_danaisaiah's gonna have a little mini me running around! We can't wait to meet him. We love you lil man!
According to Us Weekly, Jordin Sparks is due in late or early May. Depending on when her baby boy decides to grace the world with his presence, Sparks could very well be a mother in a few short weeks. (Squee!) And if she's this moved by listening to her child's heartbeat, I can only imagine how adorable her posts are going to be when Sparks is finally holding her son in her arms. I can't wait to watch her motherhood journey unfold!