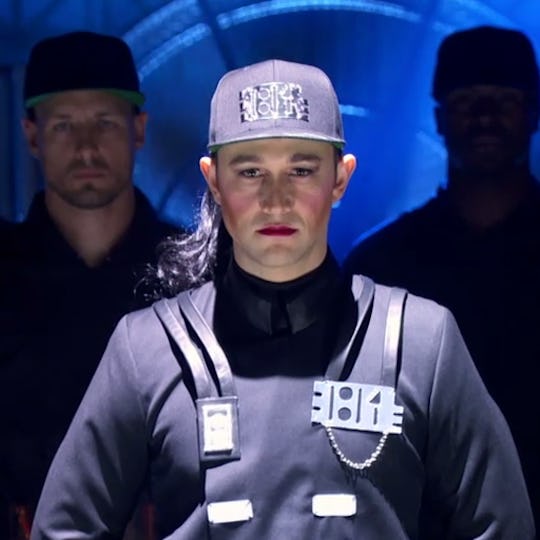 Joseph Gordon-Levitt Channels Janet Jackson On 'Lip Sync Battles,' Has All The Moves
Not all men feel at home in a wig and bright red lips, much less ready to perform before a national TV audience, but not all men have the initials J.G.L. In last night's Lip Sync Battle, Joseph Gordon-Levitt performed Janet Jackson's "Rhythm Nation" and brought the crowd to its feet (with the exception of anyone who fainted in life completeness when they saw Gordon-Levitt in person). The performance was part of a Christmas special that pitted the actor against his The Night Before co-star Anthony Mackie, while Seth Rogen sat on the sidelines donning some Elf on the Shelf getup. Though Mackie definitely brought his A game with a nostalgic rendition of MC Hammer's "2 Legit 2 Quit," it was Gordon-Levitt's tribute to Janet that stole the show.
As a dancer who has performed "Rhythm Nation" on more than one occasion (both on stage and in the privacy of my bedroom), I can tell you that paying tribute to Janet — Miss Jackson, if you're nasty — is no easy task. It takes special combination of precision, power, and presence that very few can master. Gordon-Levitt just happens to be one of those few. It wasn't just the costume and makeup that made the performance so spectacular, although they definitely didn't hurt. It was his fancy footwork that made the audience and his competitor bow down.
But last night wasn't the first time Gordon-Levitt made people scream (in a good way) with his dance moves and singing skills (even if the latter was fake this time around). From stripping on SNL to "belting" out "Superbass" on The Tonight Show, here are five other time Gordon-Levitt took to the stage and showed us he's more than an adorable face.