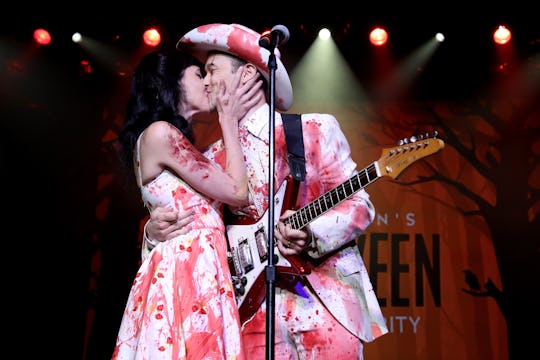 Randy Shropshire/Getty Images Entertainment/Getty Images
Joseph Gordon-Levitt & Tasha McCauley Are Expecting!
Baby makes four! After a photo was posted this week of Joseph Gordon-Levitt's wife Tasha McCauley in a black, polka-dotted dress, pregnancy bump on full display, a rep for the couple confirmed the happy news: Gordon-Levitt and McCauley are expecting baby number two, so it looks like their son will be getting a sibling! Given that their wedding was a secret back in 2014, it's not so surprising that the two wouldn't broadcast their pregnancy to the world, either, instead choosing to staying quiet as long as possible.
To say that Gordon-Levitt and McCauley are private people is a huge understatement; Even though he was born back in 2015, they've yet to share their toddler's name with the public, a choice Gordon-Levitt has had to defend time and time again. All that fans were able to glean from the news of Gordon-Levitt's firstborn was that "the family is all happy and healthy," a source notified People at the time. This private behavior could easily be encouraged by McCauley; When the two were merely dating, Gordon-Levitt told Howard Stern: "The girl that I'm with, she really doesn't want to be a part of that," justifying his decision to not reveal her name with the public, either.
"I'm reluctant to talk about being married because I'm married to a woman who doesn't like strangers being privy to her life and relationships," Gordon-Levitt informed Playboy in back in 2015. "I don't believe a person's private life—even a person in entertainment—is a public performance," he explained, challenging commonly held opinions on celebrities' roles in society. "I also want very much to respect my wife's wishes—and frankly mine too—that we keep our private life private." So, as much as fans would love to know more about their marriage, baby number one, and baby number two, they'll have to get used to Gordon-Levitt and McCauley keeping to themselves.
Gordon-Levitt and McCauley pay their son the same respect as they pay their relationship. "My son, he's just a baby, you know? So, he hasn't made the choice to be in the public eye, and that's a choice that I would like him to be able to make when he's older...when he can think about these kinds of things and make that decision for himself," he expressed on Live! With Kelly and Michael back in the same month that his son was born in. That point-of-view, obviously, has stood the test of time, and is likely to remain the standard for the couple's second child.
From Alexis Bledel and Vincent Kartheiser to Kerry Washington and Nnamdi Asomugha to Eva Mendes and Ryan Gosling — plenty of celebrities have kept their pregnancies a secret for as long as possible, so Gordon-Levitt and McCauley are in classy company. Though privacy is not necessarily a Hollywood value, couples can manage to keep their personal business just that, despite the tabloids' thirst for more.