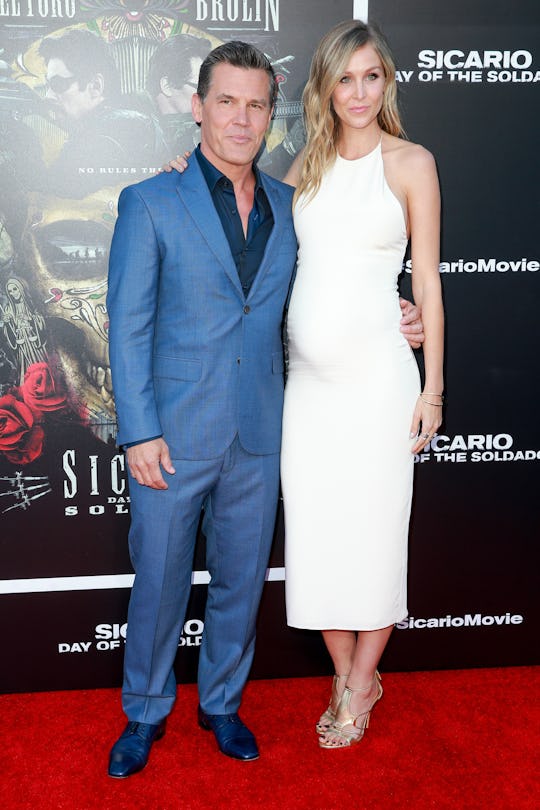 Rich Fury/Getty Images Entertainment/Getty Images
Josh Brolin Welcomes His First Daughter With Kathryn Boyd
It's been a pretty massive year for celebrity baby announcements, and the good news just keeps on coming. On Sunday, Nov. 4, Josh Brolin welcomed his first daughter with Kathryn Boyd, and their announcement was almost as sweet as their new daughter's name.
On Sunday, Brolin posted a photo to his Instagram account that shared a short video of his new daughter, who he announced was named Westlyn Reign Brolin. Even cuter? She was nicknamed "Bean."
"Dearest Ladies and Gentlemen, I would like to introduce our little girl Westlyn Reign Brolin (Bean)," Brolin wrote. "Mama Kathryn was stellar during this miracle birth and Bean is a flawless gem through and through. We are blessed to the core and appreciate so much the love and support during this pregnancy from ALL who have partaken in our journey, directly and/or indirectly."
Fans immediately began replying to the post, wishing Brolin and his wife the best with their new addition. "Congratulations there to both you and your wife!!" one comment read. "That incredible innocent smile. Congratulations," said another.
Back in May, the couple announced that they were expecting their first child together. Us Weekly reported that the couple shared the happy news on Instagram once again, with Boyd posing for a few photos while the couple went on a hike.
"There's a new sheriff in town, and she's no bigger than a sweet potato," Brolin wrote. "Hang on to your hats. #jbkbstucktogether #lilbeanterritory #loveisaslovedoes."
Though this is the first child for the couple, Brolin is also father to son Trevor, 30, and daughter Eden, 24, whom he shares with his ex-wife Alice Adair, the magazine reported.
Despite having experience as a father, Brolin opened up previously about how he was "nervous" to welcome a new baby to the family. USA Today reported the soon-to-be dad of three shared that the pregnancy happened quickly, and by accident, and that he and Boyd were so excited about the news.
"We were trying. I just didn't think it would happen so fast. We were both like, 'What?!'" Brolin began. "I'm seeing older fathers that I know throw their kids. But I have a shoulder issue after Deadpool. It's like, am I going to be able to throw my kid or not? I hate those questions. But it is what it is and I'm so excited."
Brolin previously opened up on Instagram for Father's Day about what being a father has meant to him. "I was a young punk, riding my motorcycle around town, getting in trouble, until these miracles brought a light into my life I never knew existed before that," Brolin wrote. "It is the most challenging and the deepest lightening I have ever continually grasped at, wrestled with and adventured within in my lifetime. There is no bubble in the same universe as is to be a parent."
Though it's clear that Brolin is a super supportive, involved father, as well as successful actor (his wife, Boyd, is also a successful model) it's so exciting to see the couple welcoming yet another child to the family. Though fans have only gotten to see one short video, we can be confident that there's plenty more ahead.