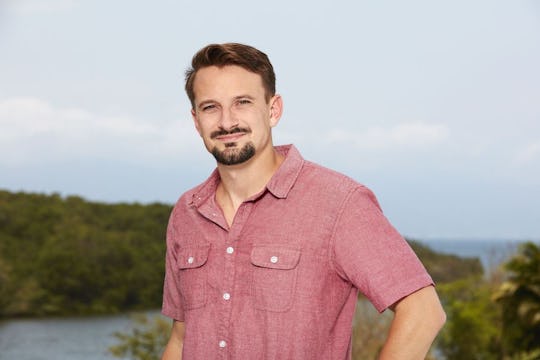 Craig Sjodin/ABC
Josh Confronts Evan On 'Bachelor In Paradise' & They'll Probably Never Be Best Friends
On Monday's episode of Bachelor in Paradise, 33-year-old erectile dysfunction expert Evan Bass was having a little trouble dealing with his recent heartbreak after Carly Waddell told him that she wasn't really interested in him romantically after their kiss. Evan did what any sane person would do, and created his own date card telling him to take Amanda to the treehouse, while she was mid-makeout with Josh. This went fine, until Evan interrupted them a second time, to warn Amanda about Josh's alleged verbally abusive history. After that, Josh confronted Evan on Bachelor in Paradise and it went about as well as you might expect.
The first time Evan stole Amanda away from Josh for a quick chat, she was gracious and kind, explaining that she wished Evan had just asked her out earlier, seeing as now she was pretty much attached at the tonsils to Josh. The second time was ostensibly to warn Amanda that while he hadn't actually read the book, he had heard of this book called It's Not Okay, written by Josh's ex-fiancé Andi Dorfman, and in it, she wrote that Josh was emotionally abusive. Repeatedly, Josh has called the book a "fictional story," and denied that any of it was true. And this is what he told Evan in their confrontation.
When he saw Evan approach the couple for a third time, Josh pulled Evan aside for a "chat." While it seemed for a minute that Josh was going to become physically aggressive, in the end he only repeated the same vague denials and platitudes he'd said a million times before. His official statement in response to the books says:
How is one supposed to comment on a fictional novel? It saddens me and is very unfortunate that Andi has chosen to characterize me in such a negative way. I respect the private relationship we had for those 8 months and I choose to go through life building others up, not tearing them down. I wish her nothing but the best in her new career and I pray she finds peace and happiness in her life.
This is more or less what he said to Evan, including such deep phrases as "everything happens for a reason," and "I believe in God." Evan was unimpressed, asking why Josh didn't sue for libel, and observing that Josh's "polish has polish." The two will never be buddies, but at least nobody was physically threatened.