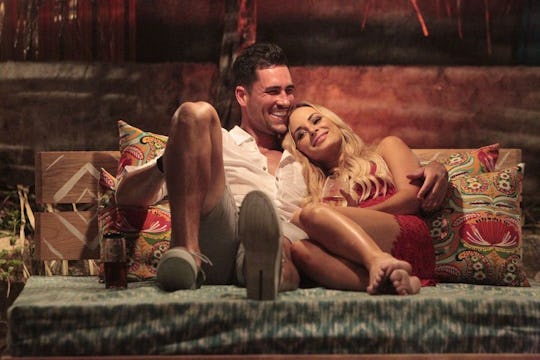 Rick Rowell/ABC
Josh Murray's Love Of Pizza On 'Bachelor In Paradise' Is All Of Us
There was one connection no one was expecting this season in Mexico, and that was Josh Murray's love of pizza on Bachelor in Paradise. The passion between these two was so intense that his pizza-eating moans fully rivaled his make-out moans in the 24-hour lip lock he was embroiled in with Amanda Stanton.
In the middle of said lip lock, Evan interrupted the couple to pull Amanda away and confess his crush. Josh decided to take advantage of his temporary solo status by ordering himself a plain cheese pizza, dutifully hand-delivered by Jorge the Bartender. And truthfully, on a tequila-fueled vacation where you're stuck in a resort in Mexico trying to win people's love, what better snack to keep you sober and comforted during your alone-time that a defrosted room service pizza? I get it.
"Right now, I don't want to focus on [Evan and Amanda]. I want to focus on the important things in life," Josh declared, chowing down. And do not underestimate the chemistry between him and a literal TV dinner-looking personal pan pizza. Said Josh, amidst much moaning:
"If you have not had a pizza in Mexico before, it's pretty darn good. Pretty darn good. I don't have it too often, but out here in Mexico, I kind of want to have it every day. I'm a very simple guy, so when it comes to pizza, I like just plain cheese. That's all I like. I don't need anything on there.
He added in a cutaway interview (while eating the pizza), "This is delicious. This is the best pizza I've ever had before in my life."
And if you're doubting my assessment of the pizza quality, the Bachelor Interns took full credit for it:
Guys, this is a serious love affair which truly proves the axiom that pizza is like sex: even when it's kinda bad, it's still pretty good. Even Twitter took notice of how intimate Josh was getting with his new food friend.
Amanda didn't happen to see Josh's pizza affair, so there was no jealousy from her end when she came back from her chat with Evan. In the end, she gave Josh her rose, but we'll have to wait and see if he returns the gesture next week, or if a 350 degree oven holds his one true love.