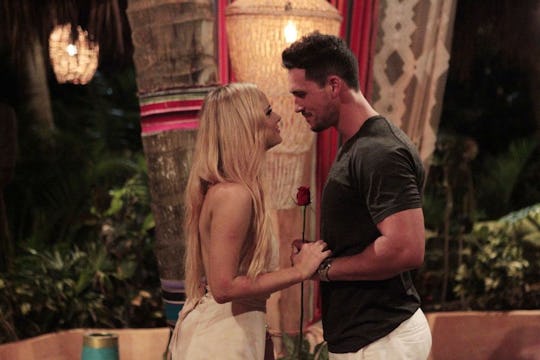 ABC/Rick Rowell
Josh Proposes To Amanda On 'Bachelor In Paradise' & It Was Pretty Sweet
It all came down to Josh and Amanda on Tuesday's finale of Bachelor in Paradise. We witnessed Carly and Evan and Grant and Lace get engaged, but we also saw Nick and Jen break up. What would be Josh and Amanda's fate? Thankfully, we didn't have to wait that long to see it. Josh and Amanda met on the beach, and declared their love for each other – Josh being incredibly sweaty while doing so. Josh then proposed to Amanda on Bachelor in Paradise and it was pretty sweet.
Throughout the season, Josh and Amanda faced some hurdles. For one, Josh came to Paradise a bit late – and Nick was courting Amanda at the time. Josh, however, was no stranger to "stealing" Nick's love interest: both were on Andi Dorfman's season of The Bachelorette, and she chose Josh over Nick. Now, history repeated itself, and Josh ended up with Ashley.
This did not mean, though, that Nick was going down quietly. He brought up the fact that Andi bashed Josh in her book, and called him abusive. He was not the only one: the twins, Emily and Haley, tried to warn Amanda about Josh as well. Their worry was not completely unfounded; it came after Josh became upset that Amanda did not tell him she was going to sleep.
Regardless, though, Amanda decided that she loved Josh more than she cared about the rumors, and their relationship continued to flourish. It seemed that Josh was two-timing Amanda with pizza for a while, but they survived that blip as well. When they arrived on the beach during the finale, then, it was clear to see what was going to happen.
"I came into this with no expectation," Amanda began her speech. She said it took one date to know that Josh was for him, and she could not wait for him to be a part of her daughters' life. "Welcoming you to family makes my heart so full," she said. Josh, who went from 0 to 100 on the sweat scale in no time, agreed. He proposed, and she gladly accepted. Will Josh really make Amanda the "happiest girl in the world" like she expects? Only time will tell.