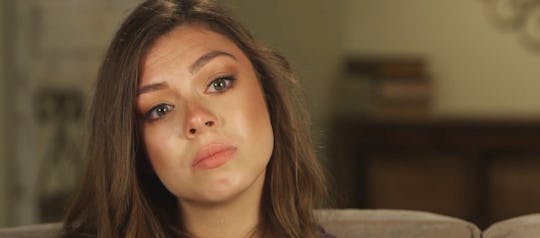 TLC
'Counting On' Star Josiah Duggar's Wife Lauren Opens Up About Suffering A Miscarriage
The loss of a pregnancy can be devastating. But sometimes, speaking about the experience can prove cathartic. Josiah Duggar's wife Lauren opened up about suffering a miscarriage back in October and how the loss affected her. While most miscarriages are entirely unpreventable and occur at no fault of the mother, they often leave behind feelings of remorse and regret.
Josiah and wife Lauren spoke about their miscarriage with People prior to the premiere of the new season of Counting On. "Lauren and I were actually preparing for a trip to go to a friend's wedding. She started feeling really sick and started noticing some different things," he told People. "Mrs. Swanson was there, so she was able to help her out. I didn't know exactly what was going on."
Lauren wasn't sure what was happening either, she said. "I wasn't feeling well. I was cramping really, really bad, which was quite strange because I normally don't," she added, according to E! News. "I was thinking maybe I had something that had gluten in it. It was late at night and I went to use the restroom and there was the baby. Gone. I couldn't believe it and I was hoping it wasn't true."
The couple didn't share the cause of the pregnancy loss, according to People, and the fact is, in many cases, the cause of most miscarriages often remains unknown.
Elizabeth Nowacki, D.O., an Ob-Gyn at St. Vincent Fishers Hospital in Indiana told Parents that it's amazing that pregnancies go right as often as they do. "When you think about a pregnancy and you think about the beginnings of a human being forming and all the things that have to go perfectly, it really and truly is a miracle when it happens," she told the magazine. "You have two sets of genetic material coming together that have to divide, and sometimes things go wrong."
She went on to explain, according to Parents, that miscarriage is "sort of nature's way of making sure that a human being is compatible with life." And while many couples who suffer miscarriage blame themselves or assume that they could have done something to change the course of the pregnancy, Nowacki said that very few miscarriages are preventable.
Rather than give in to the temptation of guilt, working through the grief and finding closure is the best way to deal with the aftermath of a miscarriage. Dr. Shoshana Bennett, Ph.D, a prenatal and postpartum mental health specialist told The Bump that women should try to take a step back from the situation and ask themselves, "Would you want your best friend to blame herself? No. Treat yourself with the same kindness as those you love... There's no 'one size fits all,'" Bennett told The Bump, "You'll work through this at your own pace, in your own way, and that's completely okay."
During the period of grieving after a pregnancy loss, your partner can be your greatest asset. Josiah and Lauren appear to have a solid foundation to their relationship, something that will serve them well through this difficult time.
After beginning a courtship in January 2018, the couple got engaged that March and married on June 30 at John Brown University Cathedral of the Ozarks in Siloam Springs, Arkansas, according to E! News. At the time, Josiah spoke with People about how "overjoyed" he and Lauren were to be starting the next chapter of their lives together. In that statement, he also expanded on what made Lauren such a special person:
I so appreciate Lauren's Christ like character and tender heart toward others. She bring sunshine into the room and encourages everyone around her. It's always stood out to me that in every situation, she looks for the one who appears to be sad or lonely and quickly can brighten their day by sharing words of hope, an encouraging scripture, a prayer or even a simple smile with them.
Tragedy is much more easily weathered with loved ones, and it's clear that Josiah and Lauren are loved. My thoughts are with the family in this tough time.