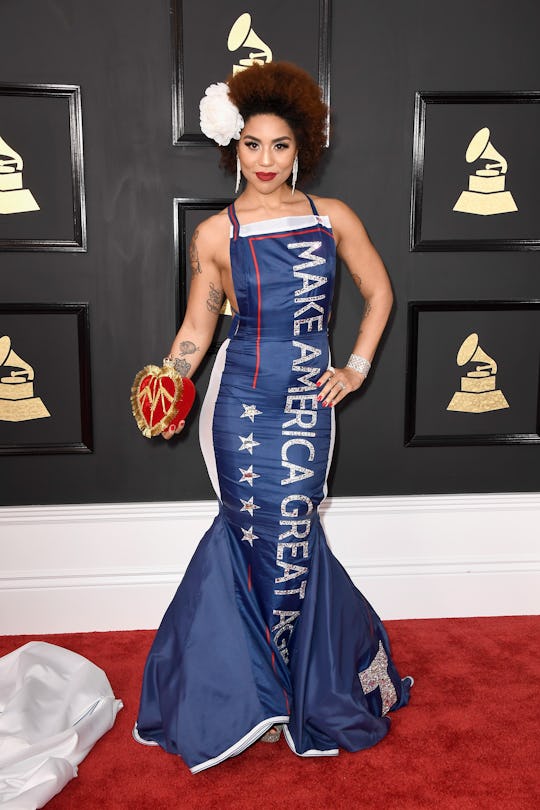 Frazer Harrison/Getty Images Entertainment/Getty Images
Joy Villa Wins "Most Controversial" At The Grammys
The 2017 Grammys red carpet is officially underway, and while we're always expecting something epic to happen while the celebrities strut their stuff, this year's tone is already affected with the first controversial dress or outfit of the night. Singer and songwriter, Joy Villa, arrived at the show on Sunday night and immediately made waves — and while she was initially wearing a white cape, she soon removed it to reveal a Donald Trump-inspired dress — and with that, quite a statement. Across social media, Joy Villa's "Make America Great Again" dress had viewers and musicians alike torn, to say the least.
Villa, who isn't exactly well-known, teased her outfit earlier on Sunday on her Twitter and Instagram pages, but not even fans were prepared for when she took her white cape off and revealed the blue dress number. The dress, which features a low back, is inscribed with Donald Trump's campaign slogan, "Make America Great Again," down the front of the garb. The back of her dress featured a giant, sparkly name embossed at the bottom: TRUMP. Her outfit also featured a red, heart-shaped purse, completing the patriotic red, white, and blue aesthetic Villa may or may not have been going for. She also uploaded a photo of her purse on her Instagram page, alongside a lengthy caption.
Her caption read:
My whole artistic platform is about LOVE! I couldn't be where I am today without the love and tenderness of those beautiful supporters and friends around me. Thank you. I hope you enjoy tonight's @grammysawards2017 and remember to forget your problems and focus on your future! You are infinite and beautiful and no one can stop you but you. So go out and celebrate yourself as a winner no matter what, together with those you adore!
While her message declared her dedication to loving and supporting others, many on Twitter took the chance to drag Villa and her dress choice.
While some pointed out that Villa had definitely succeeded in getting her name out there, it was noted that her outfit choice may not have been the best way to do so. As much of Trump's presidential campaign was fueled by fear and hatred, a dress quoting his most well-known slogan seems to be making the wrong kind of statement, and affiliation.
While Villa has not spoken outright in her support of Trump, this dress seems to point to just that fact. Of course, everyone is entitled to their own opinion... but thank goodness for Twitter.