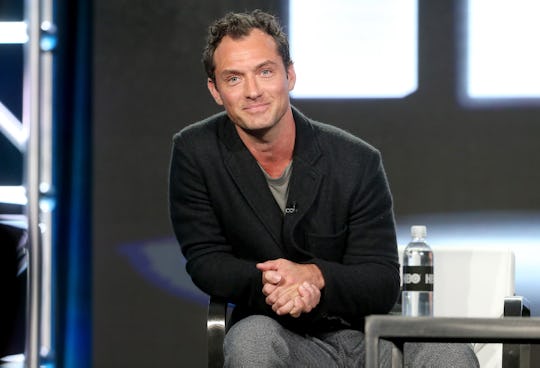 Frederick M. Brown/Getty Images Entertainment/Getty Images
Jude Law's Role In The 'Fantastic Beasts' Sequel Is Riddikulus
If you thought you were loving the the Fantastic Beasts and Where to Find Them franchise already, that's nothing compared to how you'll feel now that Jude Law will play young Dumbledore in the Fantastic Beasts sequel, which is set to come out Nov. 16, 2018. I know, this is riddikulus-ly awesome, right? (Sorry, I had to.) The news was first reported by Variety and has since sent the internet into a total tailspin of hysteria over this exciting news. And rightfully so.
I mean, this is huge casting decision, considering how beloved and important Dumbledore is the magical Harry Potter realm. Being able to see him during his younger days is going to be a major story to tell. Not to mention, this may mean we'll eventually get to witness that epic battle that takes place between Dumbledore and Grindelwald, which will continue to be played by Johnny Depp.
It's also going to put a lot of pressure on Law to give justice to such an iconic character. But I have a sneaking suspicion that the actor will be able to pull it off. Now that I've had some time to think about it, I can totally see him as a young version of the Hogwarts headmaster — though that won't be his position at the school for quite some time. Let's not forget that the Fantastic Beasts story takes place many decades before Harry Potter (or even Voldemort) came into the picture, so when viewers do lay eyes on him, he will probably be serving as the school's Transfiguration professor.
The role of Dumbledore has already been played by two very well-known actors thus far, though both of them had tackled the legendary wizard during the later years of his life, starting with the day Harry became The Boy Who Lived at the time of Voldemort's (first) downfall. Richard Harris was the first to nab the part in the first two films, but after his tragic death Michael Gambon took up the reigns for the remainder of the franchise.
However, this will now be brand new terrain for all involved in Fantastic Beasts since diehard Potter fans still know only a small portion of what Dumbledore's life was like during those early years. We know the tragedies that befell his family life, but what about his career? It'll be interesting to see the various aspects of this character explored, and it seems the director, David Yates, is eager to have Law as part of the cast.
"Jude Law is a phenomenally talented actor whose work I have long admired, and I'm looking forward to finally having the opportunity to work with him," Yates stated, as reported by Variety. "I know he will brilliantly capture all the unexpected facets of Albus Dumbledore as J.K. Rowling reveals this very different time in his life."
There's still a long ways to go before viewers will be able to see Law's portrayal, but given his known charm and acting abilities (he's a two-time Academy Award nominee), I have no doubt that he will succeed in putting a spell on all of us in no time.