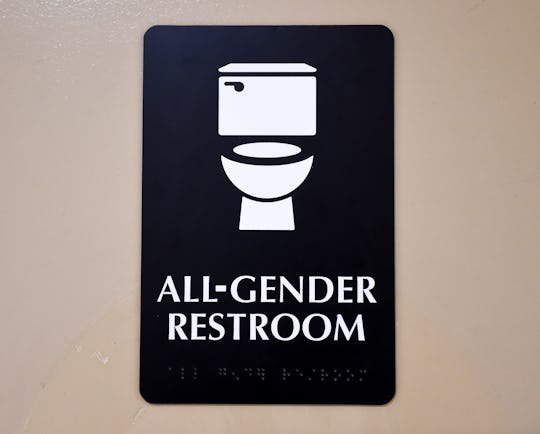 MARK RALSTON/AFP/Getty Images
Judge Blocks Federal School Transgender Bathroom Policy On First Day Of Classes In U.S.
On Sunday, a Texas federal court judge blocked a federal school transgender policy put into place this past May by the Obama administration. The nationwide temporary injunction handed down by the judge suspends federal transgender bathroom policy, which warned that schools that discriminated against transgender students — including the enforcement of bathroom use according to a student's legal sex — could potentially face the loss of federal funding.
In early May, the Obama administration issued a letter to all public schools with guidelines about allowing transgender students to use the bathroom according to their gender identity, not their "legal" gender based upon their sex determined at birth. At the end of the month, Texas sued the federal government — along with 10 other states — claiming the administration's interpretation of Title IX was overreaching. Title IX is a federal gender equity law with which all schools that receive federal funding must comply.
Opponents of the transgender policy hailed Sunday's ruling as a major victory on the day before many of America's students went back to school on Monday. Meanwhile, Dena Iverson, a spokesperson for the Justice Department called the ruling "disappointing" and noted that the department will review all their options to have it reinstated.
Texas federal Judge Reed O'Connor handed down the decision on Sunday, coming after months of an embroiled debate between public and private entities, politicians, and the LGBTQ community regarding transgender rights. Justice O'Connor said of his ruling:
This case presents the difficult issue of balancing the protection of students' rights and that of personal privacy when using school bathrooms, locker rooms, showers, and other intimate facilities, while ensuring that no student is unnecessarily marginalized while attending school.
The national debate over transgender rights stemmed from a series of restrictive "bathroom bills," as they've been dubbed, such as North Carolina's House Bill 2. HB 2 overturned a local ordinance in Charlotte that would permit transgendered individuals to use whatever bathroom they wanted. Gov. Pat McCrory has faced massive criticism both from his own constituents, but from companies who have pulled their business from North Carolina over the discriminatory law, including PayPal and Deutsche Bank.
Following the passage of HB 2, other states such as Mississippi and Tennessee followed suit, attempting — and some succeeding — to pass anti-LGBTQ bathroom bills of their own. According to an April article in The Huffington Post, there are over 100 pending anti-LGBTQ bills across the country; nine bills specifically target transgender access to bathrooms.
Sunday's ruling against a federal transgender bathroom policy is a huge blow to the LGBTQ community. Five civil rights groups, including the American Civil Liberties Union, GLBTQ Legal Advocates & Defenders, Lambda Legal, the National Center for Lesbian Rights, and the Transgender Law Center issued a joint statement expressing both their disappointment and commitment to fight for transgender students. The statement read in part:
We will continue to file lawsuits representing transgender students and litigate them to the fullest extent of the law—regardless of what happens with this particular federal guidance.