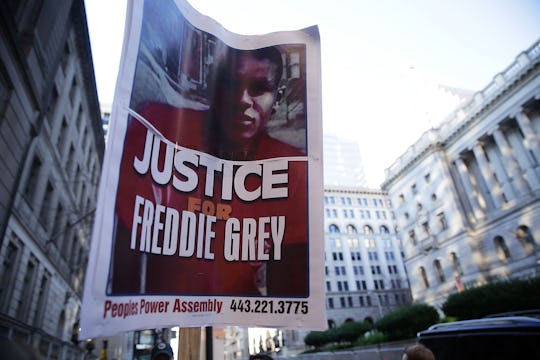 Judge Declares First Freddie Gray Case A Mistrial & The Crowd Outside Of The Court House Is Livid — PHOTOS
After 16 hours — and three days — of deliberation, it appears the jury in the Freddie Gray case could not reach a decision, according to the Washington Post. Judge Barry G. Williams declared a mistrial Wednesday afternoon in the trial of Officer William Porter, one of six officers charged in Gray's death. The case has been one of dozens over the last year that Black Lives Matter activists have held up as examples of police brutality against black people. Photos of protestors outside of the Porter's trial show that people will not let the issue go unaddressed for long.
Porter was charged with assault, manslaughter, and misconduct in office, according to CBS News. Gray was arrested in April in Baltimore, Maryland, after he made eye contact with police officers and ran, which triggered a pursuit, according to the Post. Gray was dragged into a police van, his hands and feet were shackled, and he was not wearing a seatbelt, according to prosecutors. While he was inside of the van, his spine was nearly severed, though it's still unclear how his injury happened, according to the Post.
The defense said that Porter acted reasonably given all of the information he had. For example, defense attorneys said that Gray didn't show signs of injury and never indicated that he was in distress, according to the Post. Still, the defense said Porter also asked Gray if he needed a medic and told his coworkers that they should take Gray to the hospital, according to CBS.
Black Lives Matter activists have said the incident is a clear-cut case of police brutality. They don't understand how someone could go into a police van and come out with a nearly severed spine, and photos of people outside of the court house Wednesday make that confusion clear.
Image: Getty Images