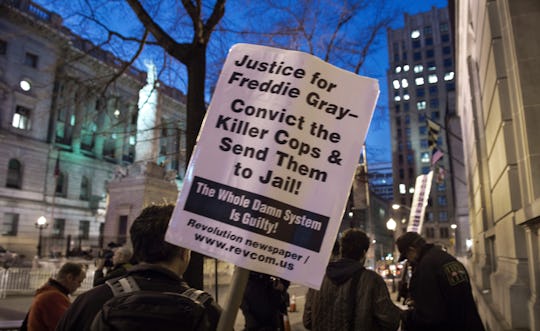 Judge Declares Mistrial In Freddie Gray Case After The Jury Couldn't Reach A Verdict
The judge presiding over the first trial in the death of Freddie Gray declared a mistrial Wednesday afternoon after the jury couldn't reach a decision about whether Baltimore police officer William Porter should be convicted with manslaughter, according to CBS News. The jurors deliberated for a total of 16 hours over three days and still couldn't reach a verdict, according to the Washington Post.
In addition to manslaughter, Porter faced second-degree assault, reckless endangerment, and misconduct charges following the death of Gray, which occurred after Gray was taken into police custody April 12. The prosecution claimed that the police officer stopped several times while en route to the police station and did not call an ambulance to treat Gray, despite the fact that Gray had been badly injured during his arrest. On April 19, Gray died from injuries to his spinal cord. Porter, as well as five other officers who have been charged in Gray's death, pleaded not guilty to all charges. He faced 25 years in prison if convicted.
Outside the courthouse, Billy Murphy, the Gray family attorney, called the mistrial a "temporary bump on the road to justice."
As of right now, it is unclear when and if Porter will face another trial for Gray's death, though that may be determined Thursday, when the prosecution and defense have been ordered to meet in court to discuss a new trial date. And it's easy to imagine that prosecutors will want Porter to face another jury, considering Gray's family are hopeful for a retrial. Said Gray's stepfather, Richard Shipley:
We thank this hard-working jury for their service to the public, their quest for justice, their personal sacrifice of their time and effort. We are not at all upset with them, neither should the public be upset. They did the best that they could. We are hopeful that [State Attorney Marilyn] Mosby will retry Officer Porter as soon as possible, and that his next jury will reach a verdict. Once again, we ask the public to remain calm and patient, because we are confident there will be another trial with a different jury. We are calm. You should be calm, too.
Gray's family isn't alone in calling for peace. As Stephanie Rawlings-Blake, Baltimore's mayor, said in a statement linked to a tweet following the mistrial:
As a unified city, we must respect the outcome of the judicial process. In the coming days, if some choose to demonstrate peacefully to express their opinion, that is their constitutional right. I urge everyone to remember that collectively, our reaction needs to be one of respect for our neighborhoods, and for the residents and businesses of our city. In the case of any disturbance in the city, we are prepared to respond. We will protect our neighborhoods, our businesses and the people of our city.
Rawlings-Blake is most definitely right in her insistence that Baltimore is prepared — the Baltimore Police Department called all police officers into work to prepare for demonstrations that may turn violent. So far, protests taking place outside the courthouse have been peaceful.
CNN legal analyst Sunny Hostin says the verdict could affect the standing of the remaining five officers, who have all been suspended along with Porter — according to Hostin, the prosecution planned "to use a lot of this evidence against the [other] defendants." The remaining five defendants will face their trials in early 2016.
Image: Rob Carr/Getty Images