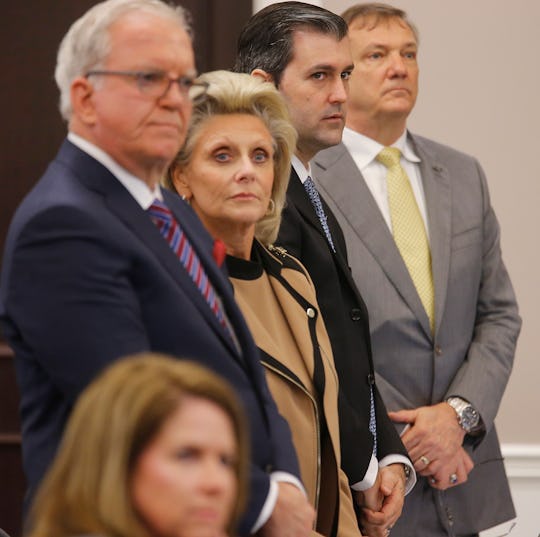 Pool/Getty Images News/Getty Images
Judge Declares Mistrial In Walter Scott Case, After Lengthy Jury Deliberation
On Monday, a judge declared a mistrial in the Walter Scott case, with the jury unable to reach a unanimous decision about the fate of former South Carolina police officer Michael Slager. After a traffic stop went wrong back in 2015, Slager was charged with murder for shooting Scott five times in the back following a foot chase. The shooting was captured on video, propelling the case into the national spotlight, and fueling questions about race relations and police brutality in America.
The jury, which was made up of 11 white people and one black person, reportedly failed to reach a decision after a month-long trial and days of deliberations because of one lone juror, who told Judge Clifton Newman in a note that they could not "with good conscience consider a guilty verdict." Now, prosecutors will have to decide whether or not to retry the case. If they don't, Slager will go free.
Slager, 35, testified that he felt that his life was in danger after he pulled over Scott, 50, for a broken tail light, and Scott ran away. Slager said that when he pursued him, the two men struggled, and Scott tried to wrest away his Taser. According to Slager, he shot Scott out of self-defense. However, the cellphone video taken by a witness contradicts aspects of Slager's story. (Slager's lawyers did not immediately respond to Romper's request for comment.)
In the graphic cellphone video, Scott was running away when Slager shot him (and, as Vox points out, he wasn't even running very fast, so Slager could have caught up to him). Slager fired eight shots at the fleeing Scott (who, as a reminder, was pulled over not for a violent crime, but for a broken tail light, so he was not a danger to the wider world), hitting him five times in the back. Then, he reportedly appeared to drop his Taser near Scott's body, although Slager denied at the trial that he was trying to plant evidence.
It's an unambiguous video, showing that Scott was clearly not trying to hurt Slager at the moment that Slager fired multiple shots to kill him. Even many conservatives who are normally quick to speak out against the Black Lives Matter movement could not deny the video's evidence, with commentators like Sean Hannity saying they could find no justification for Slager's actions.
The fact that a case with such clear video evidence could still end this way speaks volumes about racism in America. Hopefully, soon, a new trial will bring some justice for Walter Scott and his family.