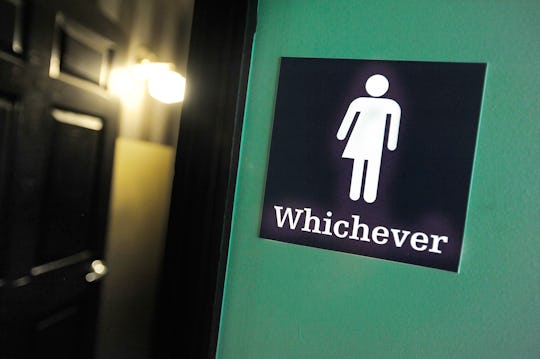 Sara D. Davis/Getty Images News/Getty Images
Judge Shuts Down Parents Suing To Reverse Trans Students' School Bathroom Rights
Following a lawsuit filed by dozens of parents calling for a school district to put an end to one of its inclusive policies, a judge has ruled that transgender students can continue to use the bathrooms and locker rooms that they identify with. Families behind the legal battle in Palatine, Illinois had reportedly cited concerns that sharing bathrooms would threaten other students' privacy, but U.S. District Judge Jorge L. Alonso was reportedly "unpersuaded" by their argument, according to ThinkProgress.
"This case does not involve the forced or extreme invasions of privacy that the courts addressed in the cases cited by plaintiffs," Alonso wrote in his ruling, according to American School & University, adding:
Further, the restrooms at issue here have privacy stalls that can be used by students seeking an additional layer of privacy, and single-use facilities are also available upon request. Given these protections, there is no meaningful risk that a student's unclothed body need be seen by any other person.
The lawsuit dates back to 2015, when a student filed a complaint against District 211 after she was reportedly refused access to the bathrooms and locker rooms that matched her gender identity, according to CNN. It was after this that the school adopted the policy at the center of the current lawsuit. "The U.S. Department of Education's Office of Civil Rights agreed that the school was violating her rights, and the school eventually relented and agreed to a more inclusive policy," ThinkProgress reported of the case.
After the student was granted access to the facilities that she identified with, according to ThinkProgress, several parents stood together in an effort to reverse the progressive policy. According to the Chicago Tribune, there were "50 families who sued the district in 2016 seeking to end the transgender access practice for good." This effort was ultimately put to a halt last week as Alonso upheld the original ruling, according to ThinkProgress.
Romper's request for comment from the school district, as well as the group of families behind the lawsuit, on Alonso's ruling was not immediately returned.
In his ruling, Alonso cited another student transgender bathroom legal battle; the case of Ashton Whitaker, who fought to use the bathroom he identified with in his Wisconsin high school, according to the Los Angeles Times. After nearly two years in court, Whitaker ultimately won the case, a precedent that Alonso referred to in his ruling. According to ThinkProgress, Alonso wrote:
The school district in Whitaker unsuccessfully defended its policy with the same argument as Plaintiffs advance here, i.e., that allowing transgender students access to restrooms based on their gender identity infringes on the privacy rights of other students with whom they do not share biological anatomy. The Court here is similarly unpersuaded.
With his decision to uphold the first student's rights, Alonso's ruling this week has caused an upset. The group of parents who initially protested the decision to allow students to use whichever bathroom they identify with have formed a formal group to continue to fight to have this inclusive policy reversed. On the group's Facebook page, the D211 Parents for Privacy, expressed their outrage of the decision. "It's not over," the group wrote in response to Alonso's ruling. "We will not rest until the privacy rights, dignity, and well-being of all students are protected equally."
However, as the Chicago Tribune reported, it doesn't seem too likely that the court will change its mind on the matter, as the judge decided that there wasn't exactly a whole lot of proof from the Parents for Privacy group that their individual rights were compromised. Additionally, Alonso found that the district didn't violate "Title IX by permitting transgender students to use restrooms consistent with their identity."
And to top it all off, Alonso also argued that the parents weren't able to prove that other students "were likely to suffer irreparable harm" as a result of having the policy in place, the newspaper reported. But, the Parents for Privacy's attorney, Gary McCaleb, told the Chicago Tribune that the group is still considering an appeal.
Alonso's ruling comes almost a year after President Donald Trump reversed an Obama-era protection that allowed transgender students in public schools to use bathrooms that matches with their gender identity, according to CNN.
Check out Romper's new video series, Romper's Doula Diaries:
Watch full episodes of Romper's Doula Diaries on Facebook Watch.