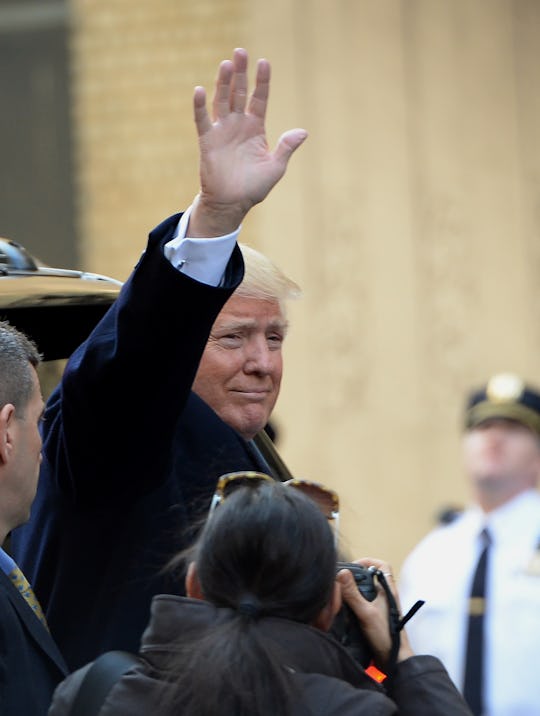 ROBYN BECK/AFP/Getty Images
Judge Tells Trump Lawyer To "Sit Down" & Her Point Is Democracy At Its Finest
Last Friday, Republican presidential nominee Donald Trump took steps to sue Clark County, Nevada, after a Las Vegas-area polling station stayed open until 10 p.m. But on Tuesday morning, Gloria Sturman, a Clark County judge, told a Trump lawyer to "sit down" during a hearing. According to Vanity Fair, Sturman said:
Are [the votes] not to be counted? What are you saying? Why are we here? You want to preserve the poll data? That is offensive to me. Why don't we wait to see if the secretary of state wants to do this? I am not going to expose people doing their civic duty helping their fellow citizens vote, that they are taking their personal time to preserve … to public attention, ridicule, and harassment. Thank you, sit down.
Trump and his campaign filed a lawsuit against Clark County for keeping a polling station open until 10 p.m. on Friday evening ahead of the election. The suit, filed Monday, cited that the polling station stayed open two hours longer than it should have and because of that, Trump and co. wanted the machines and ballots involved to be set aside and no counted in the election. When Sturman heard the case on Tuesday, her words served as a perfect embodiment of all that our American democracy stands for: choice, service, and the right to be heard.
According to Nevada state law, as Vanity Fair points out, polling stations are required to remain open until everyone waiting in line has had the opportunity to cast their vote. At a rally on Saturday, chairman of the Nevada Republican Party, Michael McDonald, said to a crowd: "Last night in Clark County, they kept a poll open till 10 o'clock so that a certain group could vote." Many believe that the reference is aimed at Clark County's Latino population, which, according to the Census, is 30.6 percent Hispanic or Latino, according to the July 2015 report. According to CNN, the Clark County polling station was one that was expected to draw in large minority populations to vote in favor of Democratic presidential nominee Hillary Clinton.
In his defense, Trump said on Fox News on Tuesday: "We have to keep the system honest."
In her decision, Reuters notes, Sturman was clear about the boundaries and measures put in place to protect voters from voter discrimination and harassment, an ever-growing concern in the social-media age: "Have you watched Twitter? Do you watch any cable news shows? People can get information and harass them." And the message runs parallel to ways in which we view democracy in our country. Everyone has the right to a choice, to an opinion, to be heard — even when we disagree and certainly when the votes cast are not in favor of a certain candidate.