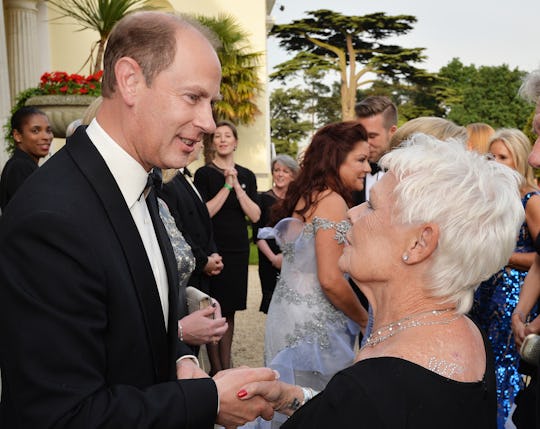 WPA Pool/Getty Images Entertainment/Getty Images
Judi Dench's Carpe Diem Wrist Tattoo Is Inspiring To Millennial Women
BBC News reported recently that, while attending a charity event earlier this month, acclaimed actress Dame Judi Dench gave the cameras a glimpse of a present she received in honor of her birthday last December: a tiny tattoo on her right wrist of the words "Carpe Diem" in block print. Yes, Judi Dench — the 81-year-old actress who has not only played two of Britain's greatest monarchs in movies, but was given a title by another Royal for her achievements — has the words "carpe diem," which means "seize the day" in Latin, tattooed on her wrist. Definitely not the kind of gift one might expect. But honestly, Judi Dench's "carpe diem" wrist tattoo might be the best birthday present any 81-year-old has ever gotten in, well… ever.
For starters, according to her interviews, Dench has wanted a tattoo for a while; it was just a matter of finding the right (permanent) message. Speaking to Good Housekeeping last year, she said that she'd planned to get herself some ink for her 80th birthday, but worried over picking something unintentionally inappropriate:
I am tempted to have a tattoo to mark my birthday. Finty's [her daughter] very keen on me having one. There's an Indian symbol that I like, which supposedly represents life and love and everything. One of the cameramen who worked on The Second Best Exotic Marigold Hotel told me what it meant, but I'm a bit nervous in case I'm being set up… It might be unbelievably rude!
Yeah, a lot of people have worried over that one. But in the end, according to the BBC, Dench went with a simple, squint-or-you'll-miss-it message that capture her life's motto.
Also, Dench flashed the tiny tat while attending the Royal Family's "Diamonds are Forever" gala to celebrate the 60th anniversary of The Duke of Edinburgh's Award. And it was actually a pretty fitting message, considering the youth achievement award is given to those with the courage to "leave their excuses at the door" and create ambitious goals for themselves and their communities, according to its official website. So not only has Dench given herself a tiny reminder to push her limits every day, she seems dedicated to supporting young people who want to do the same.
Seriously, how cool is that?
Even before revealing her edgier side, there were already plenty of reasons to admire Dench. Over her six decades on stage and in films, the Academy Award winner has become a household name for her roles in films including Chocolat, Philomena, and Notes on a Scandal, as well as her six-movie appearance as "M" in the iconic James Bond film franchise. But even after nearly 60 years in the spotlight, Dench has the power to surprise her fans. And that, along with the kick-a*s message behind her tattoo, should be applauded.