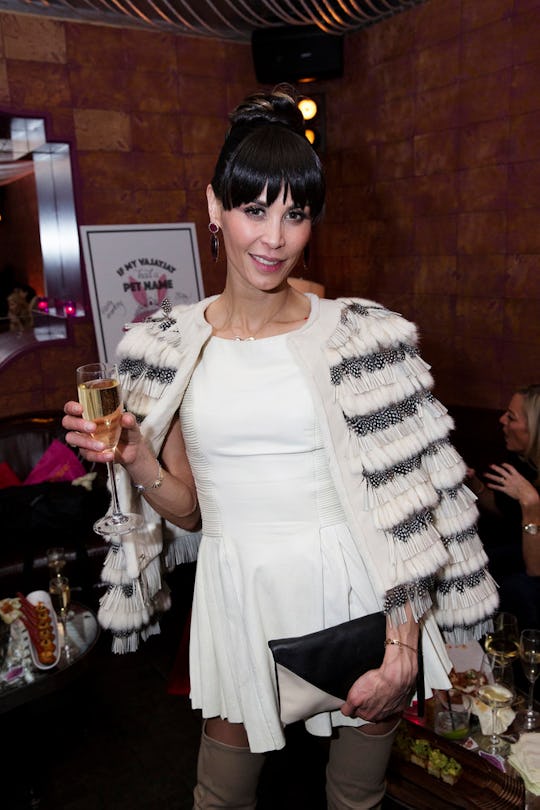 Heidi Gutman/Bravo
Jules Wainstein Struggles With Her Husband On 'RHONY,' & It Feels Foreshadowing
Wednesday's episode of The Real Housewives of New York was all about relationships. Luann de Lesseps announced that she's getting engaged to her boyfriend Tom D'Agostino Jr., which received a mixed reception at best from her girlfriends. Bethenny Frankel talked a little bit about her new boyfriend, Dennis Shields, and Jules and her husband Michael Wainstein got personal about some of their marital issues on a dinner outing with Dorinda Medley and her boyfriend John Mahdessian. Sadly, it looks like the issues that came up in this episode were a preamble to worse things to come, since Jules and Michael Wainstein filed for divorce the day of the episode's air date.
Neither has spoken out about their split on social media or to the press, so we only have what their reps have said to go on. Jules's rep has said that the split has nothing to do with the show, and that they had issues long before the show began airing. However E! reports that sources have said that the show put pressure on the marriage, and the exposure highlighted the dysfunction within it. Whether it had to do with the show or not, it's tragic to hear that the once happy couple is ending things.
Wednesday's episode was the first indication that Jules and Michael were having issues in their marriage at all. Jules, in fact, was always the one mediating issues between Dorinda and John. At dinner, the extremely punctual Jules was frustrated that her husband came late, yet again. While on the outset this seems like a fairly petty issue, these sorts of small arguments can be just the tip of the iceberg of a whole host of larger, more complicated issues. Jules was further frustrated when Michael joked about hiring a "hot" coat check girl as their new nanny.
It would be unfair and impossible to speculate as to the exact cause of the rupture between the two. And while these fights seem fairly little and mundane on TV, who knows what drama between them was lying just beneath the surface. It's unclear at this point whether Jules will be returning for another season of The Real Housewives after her separation from her husband of eight years, but whatever she does, fans wish her well.