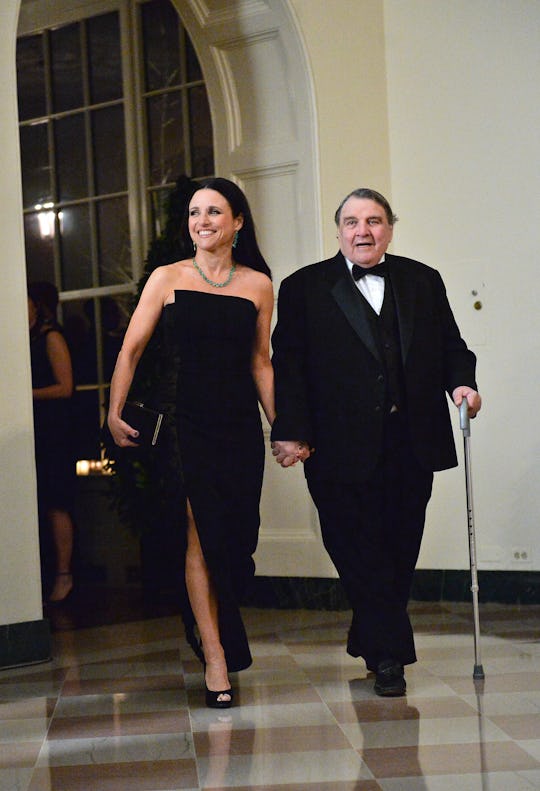 NICHOLAS KAMM/AFP/Getty Images
Julia Louis Dreyfus' 2016 Emmys Tribute To Her Dad Broke Our Hearts
Talk about an acceptance speech that was absolutely bittersweet. After getting viewers everywhere to laugh alongside her during the first half of her acceptance speech for Outstanding Lead Actress in a Comedy Series, Julia Louis Dreyfus' 2016 Emmys tribute to her dad broke our collective hearts when she talked about the death of her father just days earlier. Her candid admission marked the first time Dreyfus has spoken about the recent death of her father, businessman William Louis Dreyfus, and it was devastating to hear.
Louis Dreyfus led off her acceptance speech with her trademark wit — because you certainly don't win the Emmy for Outstanding Lead Actress in a Comedy Series an incredible five times without a strong sense of humor. But, after keeping it together, the tears understandably began when she dedicated the award to her father, saying, "I would like to dedicate this to my father, William Louis Dreyfus, who passed away on Friday. And I'm so glad that he liked Veep because his opinion was the one that really mattered."
As difficult as the moment must have been for Louis Dreyfus, it was a truly lovely tribute to her father. Most watching at home seemed to agree, after wiping the tears from their eyes to compose tweets about touching scene.
William Louis Dreyfus was quite famous in his own right, albeit in a very different field than his hilarious daughter. As the heir of the Louis Dreyfus Group, he made a fortune estimated to exceed $3 billion. Yet he was a true philanthropist who donated millions of dollars in the form of artwork to organizations such as The Harlem Children's Zone, which earned his praise and made him the star of his daughter's documentary, Generosity of the Eye. He was also a poet, who served as chairman for the Poetry Society of America for 10 years in addition to publishing his poetry.
William Louis Dreyfus was 84. His cause of death has not been revealed. More importantly, his daughter's speech was evidence of how much he was loved. And, based on comments he made about his daughter in 2014, it was clear that love was reciprocated: "Well, I couldn't tell whether she was going to be a star," the elder Louis Dreyfus said of during an appearance on The Today Show of his very funny daughter. "But I knew how natural she was, and how much she liked life, and fun, she was always very funny and fun to be around."