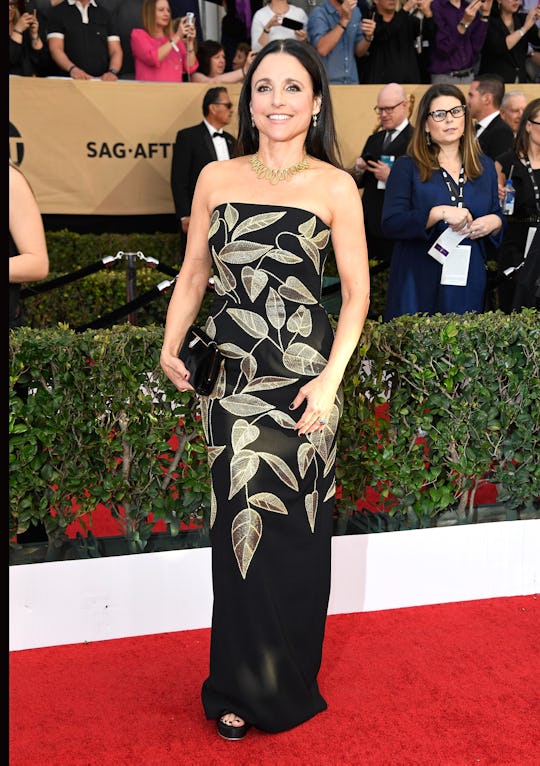 Frazer Harrison/Getty Images Entertainment/Getty Images
Julia Louis-Dreyfus' SAG Speech Was Inspiring
The 2017 SAG Awards are being held amidst a weekend of protests against an executive order signed by Donald Trump banning immigrants from seven Middle Eastern countries from entering the United States. That means it's a perfect opportunity for celebs to take aim at the White House and the first award of the night was no exception. Julia Louis-Dreyfus' SAG Awards speech on the immigrant ban tackled the important topic and Donald Trump with grace, humor, and sharp critique.
She took home the award for Outstanding Performance by a Female Actor in a Comedy Series for her work on Veep, beating out Ellie Kemper, Jane Fonda, Lily Tomlin (who takes home this year's Lifetime Achievement Award), and last year's winner in this category, Uzo Aduba. This is Louis-Dreyfus' second win for playing Selina Meyer, and she'd previously won five SAG awards for her work on Seinfeld. Although it was the very first acceptance speech of the night, Louis-Dreyfus set a powerful precedent for each winner who followed her. Even host Ashton Kutcher gave a short, but impassioned opening monologue about the importance of America being welcoming to all.
She opened with a lighthearted (but scathing) sendup of President Trump, joking that even if the Russians hacked the results of the SAG Awards, she still had the authority to take home her win.
"I say this award is legitimate and I won," she teased. "I'm the winner! The winner is me! Landslide!"
The Veep actress then took a serious turn — using the killer transition "to a less insane note" — sharing how she was the daughter of an immigrant (her father, William Louis-Dreyfus) who came to America after fleeing religious persecution in Nazi-occupied France. Louis-Dreyfus identified herself as a patriot who loves her country, and because she loves it, she said, she feels a duty to hold it accountable when it acts as a perpetrator of injustice.
"This immigrant ban is a blemish," she firmly stated, "And it is un-American."
Louis-Dreyfus concluded by reading a statement put out this weekend by the Screen Actors Guild's sister guild, Writers Guild of America (WGA), on President Trump's executive order. It outlined how WGA is grateful for the people of other nations who wish to share their creativity with America.
The SAG Awards are unique in that they are solely actor-voted upon and actor-received. For Julia Louis-Dreyfus to receive this award directly from her peers and give a speech that is as much a rousing call to action as an acceptance is particularly meaningful.