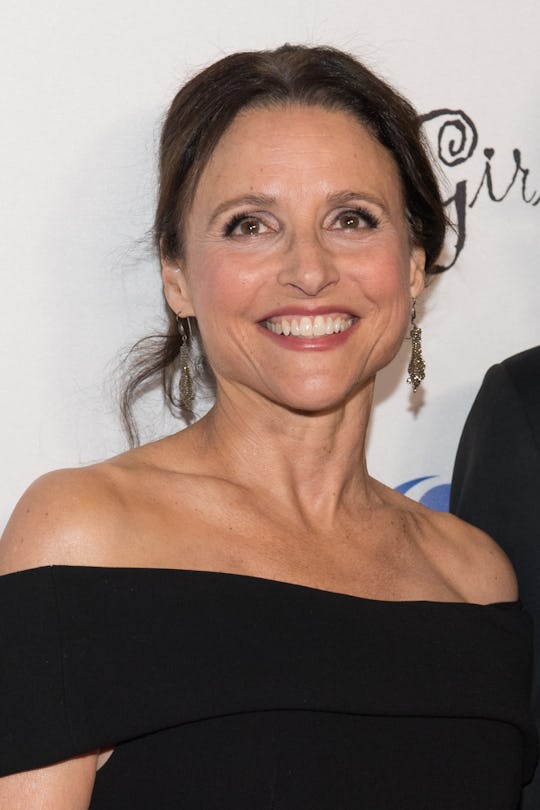 Emma McIntyre/Getty Images Entertainment/Getty Images
Julia Louis-Dreyfus Said That Laughter Helped Her Get Through Cancer Treatments
Nobody likes to take work home with them but in certain rare cases it may be just what the doctor ordered. That was the mindset for Julia Louis-Dreyfus, sharing laughter was the best medicine for her when she underwent treatment for breast cancer. Since she is one of the funniest women in history, it's not unimaginable to think her days were — and are — full of that natural remedy.
Louis-Dreyfus was honored Oct. 21 with the Mark Twain Prize for American Humor at the Kennedy Center in Washington D.C., according to People. In a speech that was full of comedy she took a moment to get serious about the sudden appearance of the disease in her life, and her approach to facing it, according to The Hollywood Reporter. "Last year, I was walking up to get an Emmy for my performance on Veep, which was an incredible thrill and set some kind of record for most Emmys by somebody doing something or other, and then about 12 hours later I was diagnosed with cancer …. A big part of dealing with cancer has been finding the funny parts," she said, before going on to use the moment to poke fun at the president's agenda. "The old cliché about laughter being the best medicine turns out to be true — which is good, because that's what the current administration is trying to replace Obamacare with."
The Veep star was celebrated by comedians from Jerry Seinfeld to Tina Fey to Stephen Colbert. Seinfeld attributed their famous chemistry on the show, which revolved around two former flames who remained friends, entirely to Louis-Dreyfus, according to The Hollywood Reporter. "[It was] a completely absurd idea […] That she and I were a couple, we broke up, there was this other aspect to our relationship that enabled it to survive […] There are some layers and complexity to that — and, candidly speaking, way, way beyond any acting ability that I possess. So, how did I do it? I just really, really liked Julia. I couldn't get enough of her. I never said or did anything inappropriate, but for that whole nine years, I was not acting. I couldn't!"
Louis-Dreyfus also reflected on the moment that she realized the joy that comes from making people laugh, according to People. As it turns out, her mother was her first audience member, who laughed when young Julia stuck raisins in her nose. The joke was on her though, as they had to go to the emergency room to get them out, People reported.
But solo comedy wasn't meant to be her signature style, as she told Entertainment Tonight, reflecting on the high points of her career. "I mean I've had so many, but I would say first and foremost the biggest highlight of my career has been being able to work in a number of very significant ensembles," she told the outlet, referring to her roles on Seinfeld and Veep.
ET also asked her what advice she might give to her younger self after showing her a clip of her first interview, in 1982, with the outlet. "Fix your hair," she quipped. "I'm not kidding."
Most everyone feels you with that advice Julia. Look for the seventh and final season of Veep in spring 2019 on HBO.