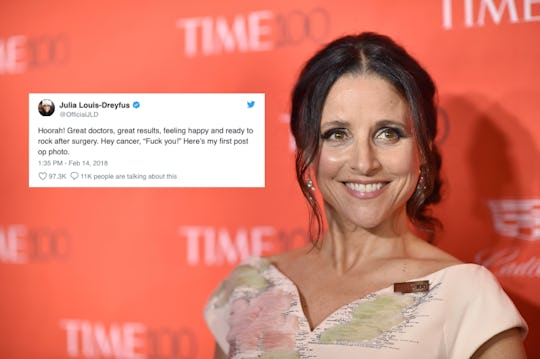 Dimitrios Kambouris/Getty Images Entertainment/Getty Images
Julia Louis-Dreyfus Shares Her First Post-Op Photo, & It's Seriously Stunning
The best way to fight cancer, it seems, is with a combination of bravery, humor, and a hell of a lot of glamour. Veep star Julia Louis-Dreyfus shared her first post-op photo to Twitter on Wednesday after undergoing surgery for breast cancer, and she looks absolutely stunning. "Hoorah!" the Emmy winner captioned the photo. "Great doctors, great results, feeling happy and ready to rock after surgery. Hey cancer, 'F*ck you!' Here's my first post op photo."
Louis-Dreyfus has been very candid and active on social media throughout her battle with cancer, starting with the announcement of her diagnosis in September, which she used as an opportunity to call attention to the unfairness of our healthcare system. "1 in 8 women get breast cancer," she wrote. "Today, I'm the one." Louis-Dreyfus was optimistic about her prognosis due to her "fantastic insurance" and the support of her family and friends, but she pointed out that "not all women are so lucky," and urged her followers to support universal health care. The post garnered tens of thousands of replies wishing her good luck, but one in particular really stood out; former Secretary of State Hillary Clinton tweeted, "Julia, you're in our thoughts and our hearts. Inspired but not surprised to see you using your platform for good in this difficult moment."
The interaction makes one wonder what the world would look like right now if Clinton had won the election, and — no disrespect to Virginia Sen. Tim Kaine — Louis-Dreyfus was the real veep. I'm thinking we'd see a lot more heartfelt tweets about health care, and a lot less about the "Fake News Media." Unfortunately, that's not the case, but Louis-Dreyfus kept her followers in the loop, entertained, and inspired with regular posts detailing her treatment.
In early October, the actress posed on Instagram in a hoodie and sunglasses, sporting a drawn-on curly mustache, in order to mark her second round of chemotherapy. "We are NOT f*cking around here," read the caption, after which Louis-Dreyfus quoted a few lines from Katy Perry's "Roar" and thanked the singer for the song. The next month, ahead of her third round, she shared a hilarious video on Twitter featuring her Veep costars Sam Richardson and Matt Walsh reciting "inspirational quotes" by Joseph Stalin and belting out Survivor's "Eye of the Tiger" in order to get her "psyched up" for her treatment. "And guess what?" she wrote. "It worked! I'm psyched AF."
Later that month, Veep executive producer Frank Rich appeared on SiriusXM's The Press Pool, revealing that although production had been delayed while Louis-Dreyfus was in treatment, the show's star was still participating in table reads.
It's been quite something since she is fighting, what is for anyone, a serious illness. And yet she wants to keep working as much as circumstances will allow. I've seen her as recently as 10 days ago and watched her just be hilarious playing Selina Meyer with the cast all around her playing the assorted group of idiots. She's got a great support system. She's a very strong person and we can't wait to welcome her back.
That support system goes beyond her colleagues; in January, in honor of Louis-Dreyfus' final round of chemo, she shared a sweet video of her sons, Henry and Charlie Hall, lip syncing to Michael Jackson's "Beat It." Costar Timothy Simons seemed in awe of the way his friend was handling her illness when speaking to reporters at the Screen Actors Guild Awards just days later (Louis-Dreyfus watched from home). "She has a good sense of humor," he said, according to People, "which I think it does wonders when you're going through something like this. She's incredibly strong. She's uniquely able to combat something like this. She's incredible." I couldn't have said it better myself.
Check out Romper's new video series, Romper's Doula Diaries:
Watch full episodes of Romper's Doula Diaries on Facebook Watch.