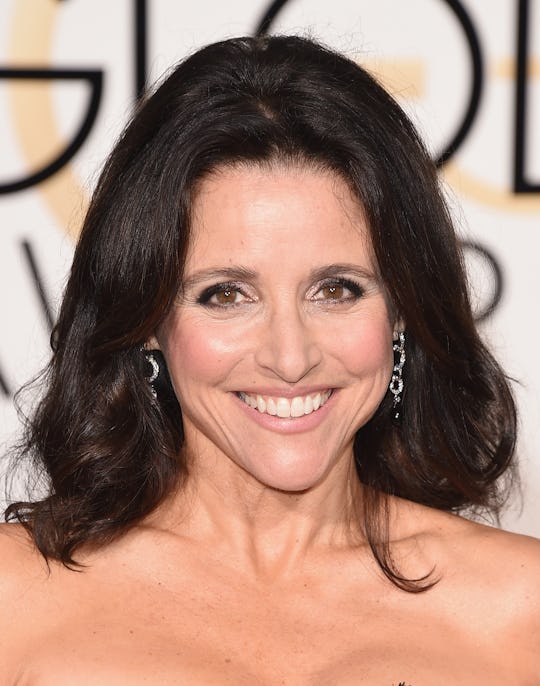 Jason Merritt/TERM/Getty Images Entertainment/Getty Images
Julia Louis-Dreyfus' Sons Celebrated Her Last Day Of Chemo With The Best Music Video
In September 2017, Julia Louis-Dreyfus bravely announced to the world that she was diagnosed with breast cancer. Today, Louis-Dreyfus' sons celebrated her last day of chemotherapy with the sweetest video on Instagram. With husband Brad Hall, Dreyfus has two sons — Henry, 25, and Charlie, 20 — and both of them decided to put together a thoughtful tribute in honor of their mother and her fight to beat the disease. Get ready to smile, because these boys really know how to make their mom's (and every other mom out there) day.
Earlier this afternoon, Louis-Dreyfus posted a video of her sons dancing and lip-syncing to Michael Jackson's hit song "Beat It" in an Instagram post. With the video, Louis-Dreyfus wrote a caption that said, "My beauty boys @henryhallmusic @charlie_hall made this for me today, my last day of chemotherapy. Pretty swell, right? Ain't they sweet?"
When Louis-Dreyfus first revealed that she was battling cancer, she announced the news on Twitter, writing:
1 in 8 women get breast cancer. Today, I'm the one. The good news is that I have the most glorious group of supportive and caring family and friends, and fantastic insurance through my union. The bad news is that not all women are so lucky, so let's fight all cancers and make universal health care a reality.
Today was her final day of chemo, and her boys celebrated appropriately.
Louis-Dreyfus' husband, Brad Hall, was a comedian on Saturday Night Live and he met his wife while attending Northwestern University. Their son Charles is actually attending Northwestern today and is on the Northwestern Wildcats men's basketball team. Louis-Dreyfus told The Hollywood Reporter that her son has been getting involved outside the basketball court as well. She explained:
He called me and said, "Hey Mom, I'm doing some behind-the-scenes interview stuff" ... Next thing I know I'm watching ESPN and there's my boy Charlie interviewing people ... and Charles Barkley introduced him! But I'm actually glad I didn't know [more] because then I'd be wringing my hands thinking, "I need to be there, I have to edit it, I've gotta tell him what to do." … But anyway he was fine, he doesn't need me, it turns out.
Louis-Dreyfus' cancer reveal came on the heels of her 2017 Emmys win for Outstanding Lead Actress in a Comedy Series on the television show Veep. This was Louis-Dreyfus' sixth consecutive Emmy Awards win. According to Country Living, upon learning of her diagnosis, Louis-Dreyfus' Veep co-stars recorded their own version of Queen's "We Are the Champions," and they performed a lip sync to Rachel Platten's "Fight Song" in order to help cheer her on during her fight against cancer.
Along With Her Sons & Co-Stars, Her Fans Have Been Rooting For Her All Along
Over the holidays, Louis-Dreyfus posted a photo of her IV bags and said she was getting a little cocktail in for the holiday season. She also posted a mistletoe moment between herself and her husband. Just this past summer, the couple celebrated their 30th wedding anniversary together, according to Brides Magazine. At Northwestern, the two met when Louis-Dreyfus auditioned auditioned for Hall's theater production.
In an interview with The Week, Louis-Dreyfus said she lucked out by "marrying the right guy." She also said that raising her children and maintaining a good relationship with her husband was a lot of work. Louis-Dreyfus explained:
I worked very, very hard to keep us intact. And it's been my pleasure, because it's the only way I could have survived in this business—with my family unit in place. It goes beyond that. This is a town of smoke and mirrors, and it's easy to believe your own—I don't know what to call it—brand. But you have to get beyond that.
Louis-Dreyfus said that she always tries to keep her family a priority. Clearly, with a husband and two boys cheering her on during her fight against breast cancer, they feel the same.
Check out Romper's new video series, Romper's Doula Diaries:
Watch full episodes of Romper's Doula Diaries on Facebook Watch.