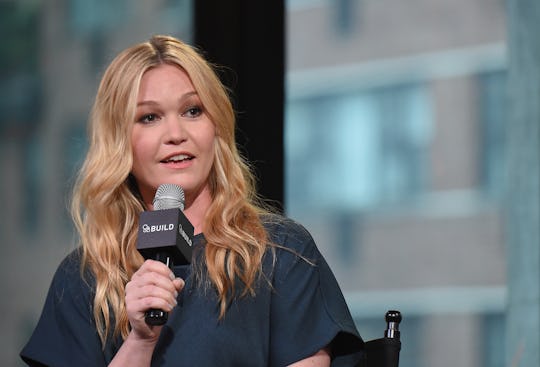 Michael Loccisano/Getty Images Entertainment/Getty Images
Julia Stiles Has The Perfect Response To Mom-Shamers Who Criticized Her
Sharing photos of your children on social media can be both a blessing and a curse. On one hand, friends and family (and fans, if you happen to be a celebrity) from afar have the opportunity to keep up with your little one's milestones. On the other hand, people pretty much have free reign to criticize your parenting choices and oftentimes, even nit-pick at your shortcomings. That's exactly what happened to actress Julia Stiles when she posted a seemingly innocent shot of herself baby-wearing her newborn son, Strummer. Now, Julia Stiles has the perfect response to mom-shamers who criticized the way she was holding her baby.
It all started on Tuesday, when the 36-year-old 10 Things I Hate About You star took to Instagram to share an adorable photo with her precious baby boy. Showcasing her little one — while still managing to hide his little face — along with her rockin' baby gear, the new mama captioned the shot with, "I haven't worn a back pack since middle school. Now I have a front pack. #jujube#tulababycarriers" Too sweet, right? Except, followers were quick to critique the new mom's placement of her baby in the Tula carrier. "Congrats! Beautiful new momma! Tula tip: Little baby feet go out the sides and not in waistband!" one person wrote. Another chimed in with some passive-aggressive (and unsolicited) advice. "Yay! Feet out of waistband and baby's face visible!"
I'm willing to bet Stiles was reading through this barrage of comments all like ...
Or, maybe more like ...
Either way, the new mom has made it clear she won't be taking mommy shaming while lying down. On Friday, Stiles clapped back with a lengthy response, reports Us Weekly. "It was brought to my attention that in the previous photo I am not holding my baby correctly," Stiles wrote. "Wow, I didn't expect that. She continued:
What was supposed to be a shout out of products I like, suddenly becomes an invitation to comment on my baby, and my ability as a mother. That's the internet for you, the carnivorous plant from 'Little Shop of Horrors.' I was trying to keep much of my son's image private, including, I guess, his little feet. And it was just a photo taken at home, not how I normally carry him around. Thanks for the concern, anyway.
Stiles' message was shared alongside an image of members of the band, The Clash — probably because, as Us Weekly reports, her son is believed to be named after the band's frontman, Joe Strummer. The actress concluded her Instagram response with, "Yes, Mothers, always read the safety instructions. But also, Instagrammers: instead of writing snarky comments about a 5 week old, try dancing around your living room to a Clash record. It's way more fun." Ohh, burn. This mama ain't takin' no sh*t from anyone.
Still, it's worth noting that many followers remained supportive through this whole overblown ordeal with the baby carrier. "Looking good. Not sure what the heck is wrong with this picture. Looks very normal to me. Congrats!" one person wrote. Another Instagram user hit the nail on the head when it comes to online mom-shamers. This person wrote:
Moms who criticize other moms are those who simply are not happy people or dissatisfied mothers themselves. Those mothers will always be there, but don't let them get you down. Your little one is beautiful, just like you!
A. Freaking. Men.
According to People, Stiles and her husband, Preston Cook, welcomed their son on Oct. 20. The actress officially announced the arrival of her first child about a month later with a photo of Strummer's little hand wrapped around a thumb. Since his birth, Stiles has noticeably avoided posting photos of her son's face — a trend many celebrities are following in order to keep their children out of the public eye, according to E! News.
Guys, being a new parent is hard enough without strangers hawking over your every move. So let's all agree on one thing: Unless you see that a child is in imminent danger, just stick with commenting on how cute someone's kid is, okay? Because celebrity or not, new parents are probably judging themselves enough already.
Check out Romper's new video series, Romper's Doula Diaries:
Watch full episodes of Romper's Doula Diaries on Facebook Watch.