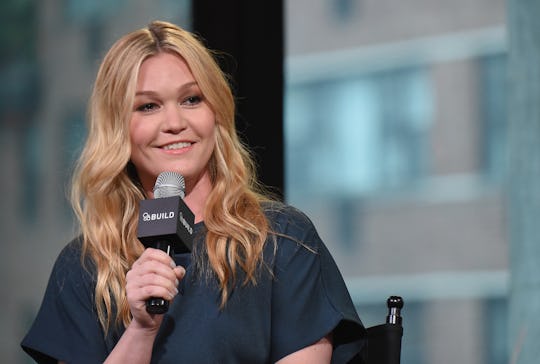 Michael Loccisano/Getty Images Entertainment/Getty Images
Julia Stiles Is Pregnant With Her First Child
If you were a teen in the late '90s, chances are actress Julia Stiles will forever be ingrained in your mind as Kat from 10 Things I Hate About You — a truly perfect film that will never stop being the best thing (also, Heath Ledger, sigh). Stiles took a bit of a break from Hollywood for a while, but these days she has returned to acting, and also has some exciting news to share: according to Us Weekly, Julia Stiles is pregnant with her first child with fiancé Preston J. Cook, and she's showing off her bump while making the rounds to promote her upcoming project, Riviera.
Stiles' rep confirmed the pregnancy news after the actress posed for a photo with Magic FM radio presenter Nick Snaith Monday while promoting the upcoming 10-part television thriller, according to People. In the series, Stiles plays an art curator named Georgina whose husband is killed in a yacht explosion in the French Riviera, and while it's not yet clear if Riviera will air in the United States — so far, it's only set to run on Sky Atlantic in the U.K. beginning June 15 — the photo has garnered plenty of attention for also happening to be the first photo of Stiles' pregnancy. In the pic, the actress wore a black dress and cradled her growing belly, pretty much looking every bit as lovely and perfect as she did during her stint as the queen of early '00 teen movies (seriously, is it even possible to not adore her?).
The 36-year-old actress seems to be more than happy to keep her personal life quiet now, opting to focus instead on discussing her work, but in an interview with Sky News on Tuesday, she acknowledged that, yes, she was pregnant, and added that she was "very excited" about becoming a mom.
This will be the first child for Stiles and Cook, who met in 2015 when he worked as a camera assistant on her film, Go With Me, according to Us Weekly. The two became engaged on Christmas Eve the same year, after Cook proposed on vacation in Isla Grande, Colombia. Stiles later revealed the news on her Instagram account, posting a photo of her engagement ring along with the caption, "Best Christmas Ever!"
While Stiles and Cook seemed more than ready to get engaged, they haven't exactly been in much of a rush to actually tie the knot. In 2016, Stiles told People that the couple was taking wedding planning "really slow," and now, with a baby on the way, it's pretty safe to assume they've got bigger things to plan for. But she certainly seems smitten: according to The Mirror, Stiles revealed her relationship with Cook when asked during an interview about "the best kiss of [her] life." Stiles replied, "It might have happened this morning. I am dating a camera assistant I met at work called Preston."
It's not entirely clear if Stiles plans on talking much about her pregnancy going forward, but fans are definitely excited at the prospect of Julia Stiles becoming a mom. And while Riviera may not be airing on our television screens anytime soon, chances are good we'll at least continue to see glimpses of Stiles — and her pregnancy belly — while she's in the U.K. to promote it.