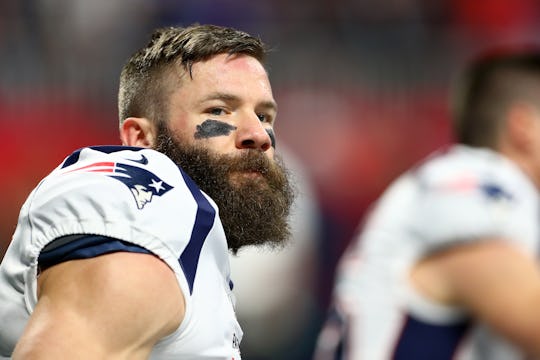 Maddie Meyer/Getty Images Sport/Getty Images
Prepare To "Awww" Over Julian Edelman's Sweet Photos With His Daughter
Even though tonight, Super Bowl LIII, is meant to celebrate football's greatest, it also seems like the best time to learn more about the players' lives off the field. For instance, not only is New England Patriots wide receiver Julian Edelman a superstar athlete, but he's also a loving daddy to one adorable (and lucky) little girl. And you definitely need to see Julian Edelman's photos with his daughter to understand this level of cuteness they share.
Edelman had daughter Lily with model Ella Rose in 2016, according to TMZ. It looks like there was a little bit of drama surrounding her birth; the Boston Globe reported that Rose filed a paternity suit against Edelman at one point. Luckily, though, it seems like the two have since worked out their issues and they haven't affected Lily's relationship with her dad.
With a Swedish model for a mom and a handsome NFL superstar for a father, you know baby Lily's got some good genes. She's definitely a cutie pie, but the cutest thing about her might be the big smile she's got on her face whenever she's around her famous dad. Edelman isn't shy about sharing snapshots of his life with her, as the toddler makes regular appearance on his Instagram.
Here are a nine too-cute-for-words pics of the receiver and his little leading lady.