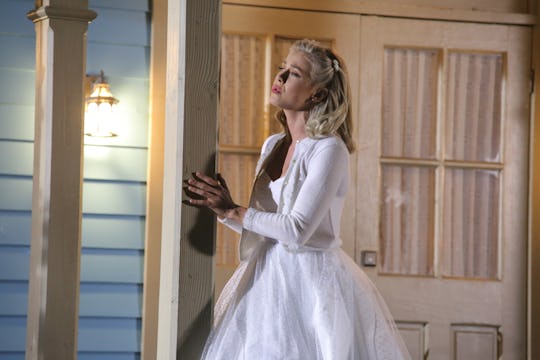 Kevin Estrada/FOX
Julianne Hough's 'Hopelessly Devoted To You' Performance On 'Grease: Live!' Was A Step Up
Julianne Hough already had a pile of pressure on her shoulders when she took on the role of Sandy in Grease: Live!. Olivia Newton-John left some pretty big shoes to fill, and that's before you even consider the challenges of filming a live musical. As it turns out though, Julianne Hough's "Hopelessly Devoted to You" performance proved the singer/dancer/actress had the chops to pull it off, because it was absolutely fantastic. Keep in mind, this was the song that Hough admitted — less than two weeks before the show — would be the hardest song to tackle on Grease: Live!.
She wasn't worried about the vocal range of the song itself, according to Hollywood Life, but the crazy logistics involved reportedly made her nervous. "I'll be getting on a golf cart right after the dance and [busting] my butt," she told the entertainment site. "[Then I'm] traveling to Sandy's house in like a minute and a half, have to get prepared, and belt it out." (All the fun challenges that come with filming a live musical.) Luckily, it seems that with all of the action, Hough barely had time to feel nervous, which was a concern of hers when she was cast.
Between her childhood self dancing around the living room and the Grease: Live cast's endless rehearsals, Hough likely got plenty of practice in. It must have paid off, because she nailed it. Fans weighed in online, feeling rather — ahem — hopelessly devoted to Hough. (I know, I know, I'll go crawl under my dad joke rock now.)
Now, all that's left is to see is footage of a five-year-old Julianne Hough dancing around to "Hopelessly Devoted to You." I have a feeling it would topple any performance by Olivia Newton-John or the current, 27-year-old Hough, because think of the feels involved knowing Hough would be singing it as Sandy two decades later.
Check it out for yourself:
Girl's. Got. Pipes.