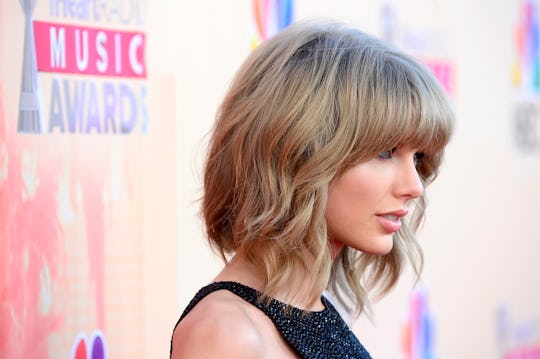 Frazer Harrison/Getty Images Entertainment/Getty Images
Jury Sides With Taylor Swift In Sexual Assault Case
After a years-long legal battle, a jury reached the final verdict in Taylor Swift's sexual assault case, according to CNN. Ultimately, Swift won her countersuit against former radio host David Mueller, who now will reportedly need to pay a "symbolic" $1 in damages to Swift after having reportedly groped her underneath her skirt at an event in 2013. Swift's case is a huge win for sexual assault survivors everywhere, but she's not letting the conversation conclude in the courtroom. Swift intends to keep supporting victims every way that she can, so that these types of offenses are prosecuted more successfully.
Mueller's original suit against Swift alleged that Swift intentionally set out to have him fired after their meeting in 2013, denying the groping allegations altogether. Also suing Swift's mother, Andrea, and Swift's radio handler, Frank Bell, Mueller was looking for a settlement up to $3 million. This lawsuit, however, was reportedly thrown out by a judge on Friday afternoon.
Swift's responsive countersuit against Mueller alleged assault and battery, saying that Mueller "stayed attached to [her] bare ass-cheek as [she] lurched away from him," calling it "a definite ... very long grab," as CBS News reported. The jury, which consisted of six men and two women, ultimately ruled in Swift's favor. According to HuffPost, Swift released the following statement afterward, thanking the jury and her attorneys, saying:
I acknowledge the privilege that I benefit from in life, in society and in my ability to shoulder the enormous cost of defending myself in a trial like this. My hope is to help those whose voices should also be heard. Therefore I will be making donations in the near future to multiple organizations that help sexual assault victims defend themselves.
Despite her character being attacked throughout both trials, Swift was able to emerge victorious in the end. During her testimony, Swift insisted: "I am not going to allow you or your client to make me feel like this is my fault, because it isn't."
Swift exhibited a great amount of strength through out her trial — strength that, she acknowledges in her statement — was permitted by her personal privilege. For so many sexual assault victims, these resources (time and money, in particular) are completely out of the question, leaving crimes unpunished.
By committing to constant advocacy moving forward, Swift will hopefully help others to gain some semblance of justice against those who have violated them. And this wasn't just a success for Swift, it's a sign of hope for survivors everywhere.