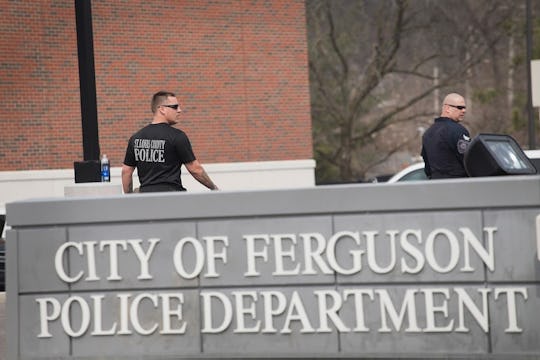 Scott Olson/Getty Images
Justice Department May Sue Ferguson For Not Complying With Federal Guidelines
It has been a long fight for justice in Ferguson, Missouri. The New York Times reported Wednesday that the Justice Department may sue the city of Ferguson for not complying with a set of federally mandated guidelines following the police-shooting of a young black man, Michael Brown, in August 2014. Vanita Gupta, the acting assistant attorney general for the federal Civil Rights Division, noted in a statement that the department "[would] take the necessary legal actions to ensure that Ferguson's policing and court practices comply with the Constitution and relevant federal laws." Update: As of Wednesday evening, the Department of Justice has said it will press forward with its suit against the city of Ferguson.
At a city council meeting on Tuesday evening, the city of Ferguson announced that they would amend the proposed settlement which had already been agreed upon by local and federal government after several months of negotiating. A city analysis determined that the city's costs would be up to $3.7 million for the first year of having the settlement in place. This caused concern for Ferguson residents and city officials. Now, it looks like the town of Ferguson is going to rack up a lot more money in legal fees because of that decision.
In a press conference on Wednesday evening, Attorney General Loretta Lynch made clear to reporters and officials alike that she was disappointed in the city of Ferguson and it's decision to be reportedly non-compliant, saying,
The city of Ferguson has chosen to live in the past, move backwards, and ignore the needs of their citizens, complaints of their citizens, and the clear findings of the Department of Justice. They had many opportunities to deal with our findings and we had hoped they were on that path. I am profoundly disappointed that they made this choice.
On Tuesday night, Ferguson city council agreed in a 6-0 vote to many of the settlement's provisions, but disagreed and amended to remove others, such as a requirement that police salaries be raised. The council also asked for an additional 180 days to comply with the agreement on top of the 90 days that had already been granted to them. "I don't think there's anything unreasonable," Ferguson councilman Wesley Bell said.
The Department of Justice, of course, disagreed, filing the lawsuit against Ferguson on Wednesday evening. You can read the full lawsuit between the DOJ and Ferguson here.
Whatever comes of the suit itself, whether a weighty bill or a new host of federal mandates, it's likely that the changes will keep the city in the public spotlight for some time.