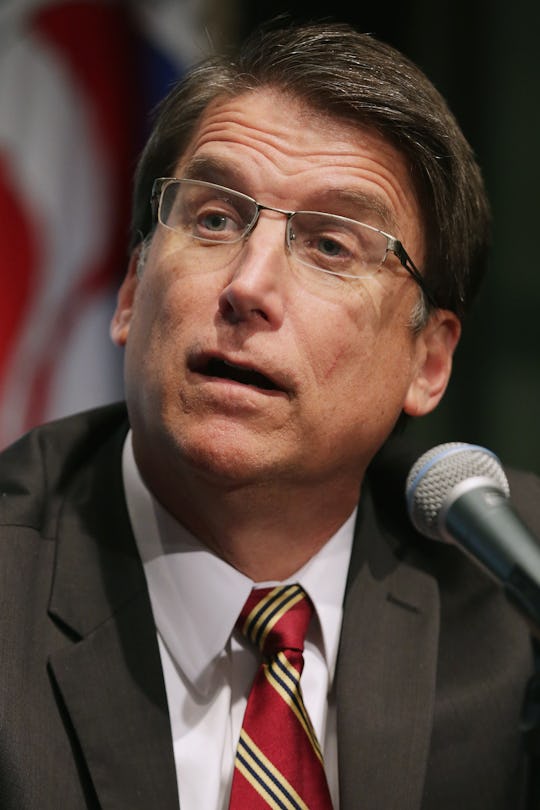 Chip Somodevilla/Getty Images News/Getty Images
Justice Department Says North Carolina Bathroom Law Violates Civil Rights, Activists Win
After a much publicized debate, the Justice Department notified North Carolina that its anti-transgender bathroom law violates civil rights, marking a win for transgender activists everywhere. Justice Department officials on Wednesday told embattled Gov. Pat McCrory that House Bill 2 (HB2) — or as it was titled in North Carolina, the Public Facilities Privacy and Security Act — violates Title IX of the 1964 Civil Rights Act, which states that discrimination in education based on sex is not constitutional. The bill also reportedly violated the state's anti-discrimination ordinances, which Charlotte had recently passed.
The Justice Department means business with its proceedings against the "bathroom law," too. Valita Gupta, the principal deputy assistant attorney general wrote in a letter this week,
Access to sex-segregated restrooms and other workplace facilities consistent with gender identity is a term, condition or privilege of employment. Denying such access to transgender individuals, whose gender identity is different from the gender assigned at birth, while affording it to similarly situated non-transgender employees, violates Title VII.
The Justice Department has given the state until the "end of business" on May 9, or next Monday, to repeal the bill. If they don't, North Carolina could lose up to $861 million in federal funding for its schools, according to WBTV, a Charlotte-based affiliate of CBS. The governor has not yet commented publicly on the Justice Department's letter.
Governor McCrory defended the passing of the bill in late March, tweeting that letting "men into women's bathrooms" defied common sense. "I signed bipartisan legislation to stop the breach of basic privacy and etiquette, ensure privacy in bathrooms and locker rooms," he tweeted later. The bill immediately prompted protests, both inside and outside of North Carolina — a handful of which came from some pretty big names.
Performers like Bruce Springsteen cancelled concerts within the state and companies like Apple and American Airlines have also spoken out on behalf of the transgender community. The NBA threatened to reconsider the location of the 2017 All-Star game, set to take place in Charlotte, because of the law. Even Beyoncé got in on the controversy by encouraging fans to donate to Equality NC, ahead of her performance on Tuesday in Raleigh, saying that she wanted to bring attention to "those who are committed to being good and carrying on the message of equality."
Although North Carolina officials maintain that HB2 is supposed to protect citizens in bathrooms, there have been no recorded instances of transgender people attacking anyone in bathrooms, that we know of. In fact, according to a recent study, transgender citizens are more likely to be attacked for using a certain bathroom than anyone else.
The Justice Department's letter to North Carolina has certainly reinvigorated the debate over transgender rights and given activists and the LGBTQ community reason to celebrate, despite the fact that the Republican National Committee recently wrote a resolution recently, which stated that the federal government has been overreaching the scope of Title IX.
"The Republican National Committee calls on the Department of Education to rescind its interpretation of Title IX that wrongly includes facility use issues by transgender students," the RNC wrote. "[We encourage] State Legislatures to recognize that these Obama gender identity policies are a federal governmental overreach, a misinterpretation of Title IX policies, and an infringement upon the majority of students' Constitutional rights."
Regardless of the RNC's sentiments, if a transgender person can't use a bathroom they feel comfortable using at school or at their place of employment, there's nothing to do but recognize it as discrimination — after all, it's the only way to get an important discussion rolling.