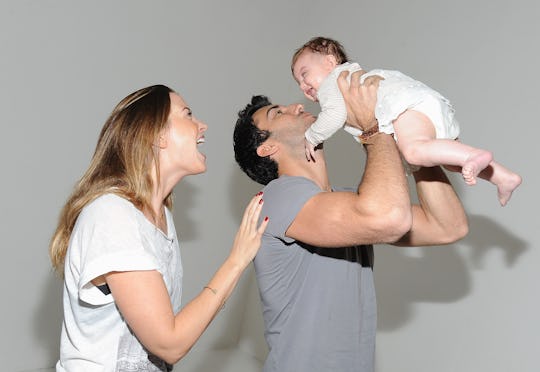 Angela Weiss/Getty Images Entertainment/Getty Images
Justin Baldoni's Most Recent Insta Is So Relatable
The average parent has 736,148 pictures of their kids (approximately). Capturing your child growing up and reaching big milestones in his or her life is important to so many parents. But Jane The Virgin star Justin Baldoni posted a video of his daughter that got real. Justin Baldoni's Instagram about his daughter's "first real sentence" is so relatable.
On Monday, Baldoni posted a cute video to Instagram of his daughter Maiya saying her name. But it was his daughter's words after he put the camera down that should strike a chord with parents everywhere.
He captioned the video: "Shortly after this she said her first real sentence - 'Daddy stop filming me and just be in the moment!!!' I'm working on it my love. I'm working on it."
It's amazing that Maiya, who is 21 months old, was able to impart words of wisdom that so many of us should follow. So many of us focus on capturing moments so we can look back on them for years to come, and, as a result, we aren't enjoying these moments as they happen. Instead of listening to your child's laugh as she plays in the bath, or embracing the joy you feel after hearing your child's first words, you're focused on taking the perfect photo or capturing at least one video that doesn't look like it was shot during an earthquake.
For some, the moment becomes more about the comments you receive on Instagram than about the fleeting experiences shared between a parent and their ever-growing child. For others such as mom and Perinatal Psychiatrist Carly Snyder, some parents take pictures of frustrating moments, such as their child's tantrum, to "reframe the memory into a positive experience." But maybe all of us should live in the moment so we can remember the actual moment, not the rose-colored version of it.
Baldoni has admitted himself that capturing big milestones in his daughter's life is important to him. When Maiya was 10 months old and on the verge of walking, Baldoni told People: "I'm getting the cameras and everything ready. She's just happy and joyful. She's just like her mom. I'm so lucky."
Baldoni isn't a fan of missing a moment away from his daughter, even when he and wife Emily Baldoni spent a date night away from home together. "Within five seconds, [Emily] sent a text and we already have a video so everything is okay," he told People.
But despite wanting to capture every moment, it looks like Baldoni did take his daughter's advice — he didn't follow up his post with a stream of photos or videos of Maiya. He lived in the moment with his daughter. He made real memories.