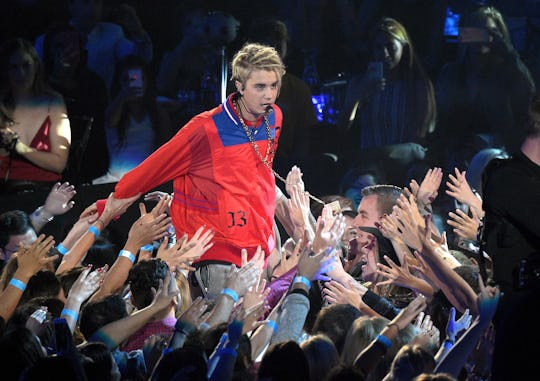 Jason Kempin/Getty Images Entertainment/Getty Images
Justin Bieber Emojis Are Less Than Flattering & Hilariously Self-Deprecating
Justin Bieber is without a doubt, one of the most popular celebrities of our current day. Whether you love him, hate him, or love-to-hate him, you've got to have an opinion about Justin Bieber. But now you can express your opinion about the Beebs to your friends using Justin's new app, Justmoji, which include emojis of — you guessed it — Justin Bieber. The best part for all the non-Beliebers out there? The Justin Bieber emojis aren't just flattering portraits of the popstar, they're self-deprecating and really very funny.
For $2.99 you can download the Justmoji app and have dozens of great Bieber emojis right at your fingertips — and they're perfect for all occasions. Don't feel like going out with your friends? Use a Justmoji to tell them that you're not feeling too hot. Go on a bad date? Use a Justmoji to tell the person you'd rather be friends. They'll understand because its Bieber doing the communicating for you.
The singer is not the first celebrity to release his own emoji app. Kim Kardashian famously has the Kimoji app, Amber Rose has a special MuvaMoji app, and heck even Blac Chyna announced her pregnancy through her ChyMojis. What I'm trying to say is, celebrity emoji apps are the new big thing and Bieber is partaking in this trend — but also being a humorously critical of himself in the process.
The funniest thing about the Justmoji app is how honest the portrayals are. While screenshots at the App Store detail more refined options for Justmoji fans, for every smokin' hot photo of Bieber's face (as an emoji) there's a just-as-funny cartoon version of Bieber that makes fun of him or paints him in a less than flattering light, highlighting all of his worst moments. (Like when he throws epic tantrums or makes ridiculous comments. Nice one, Biebs!)
It's like this: If you're going out but aren't feelin any photos or Snapchats of yourself, send the "no photos" Justmoji to your friends, before they start pulling out their phones and acting like the paparazzi.
Alternatively, the "I gotta pee" Justmoji can be used in a variety of great situations. At a party and you can't communicate over the loud music? Send your friends the I gotta pee emoji to let them know that it is time to go. This emoji also works great in libraries or fancy dinners, where you have to be quiet and polite but still have to communicate to other people in the room that you have to slip away to use the restroom or ignore people.
Many of the emojis, of course, make reference to some of Bieber's not-so-flattering moments under the watchful public eye. For example, last month, the popstar took to his Instagram to tell fans that he would no longer be taking photos with fans in public, thus giving life to the "no pictures" emoji. The "I gotta pee" emoji refers to a 2013 incident in New York where Bieber reportedly peed into a bucket behind a restaurant (I'm not making that up).
While the Justmojis may cartoonishly immortalize some of Bieber's not-so-great moments, they're still pretty hilarious and useful for fans and non-fans alike. And for just $2.99, having an emoji of a cartoon Justin Bieber holding a bucket of pee at your fingertips is worth it.