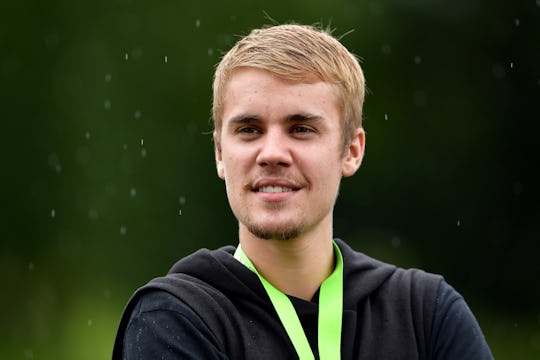 Stuart Franklin/Getty Images Sport/Getty Images
Justin Bieber Has A New Baby Sister & She's Got An Incredibly Cute Name
It looks like 2018 is shaping up to be one of Justin Bieber's best years yet. Not only did he get engaged to model Hailey Baldwin in July, but he also welcomed a new sibling into his family on Thursday. Yep, Justin Bieber has a new baby sister, and he couldn't be more excited about her arrival. Bieber is so thrilled, in fact, that he revealed all of the details about the baby on his Instagram account, including her distinctive name. Not to mention, Bieber also shared the most *adorable* pic of the newborn's face. Cue the awws.
Thanks to Bieber's dad, 43-year-old Jeremy Bieber, he has three siblings to dote on. In addition to the latest arrival, Jeremy is dad to Jaxon, 8, and Jazmyn, 10. Bieber loves his big brother status, to say the least, and some fans might remember the cute moment when he took Jaxon to the Grammys in February 2016.
Likely to Bieber's delight, Jeremy and his new wife, Chelsey Rebelo, announced their baby news in February, shortly after they tied the knot. It's safe to say Bieber was overjoyed about the development, especially since he's focused on family these days. But if you want additional proof about Bieber's happiness, look no further than his announcement regarding his little sister's arrival. "Meet the newest bieber, my little sister BAY BIEBER," Bieber captioned a shot of the infant's face, according to Instagram. And later, Bieber commented on the photo: "Luv u girl." So. Cute.
What a sweet face, right? It's obvious Bay is one adorable baby.
Following the post, Bieber's loyal supporters came out of the woodwork to share in his happiness.
"Aww welcome to the belieber family," one fan wrote on Instagram.
"Congrats on becoming a big brother again!!! 🎈🎊🎉😍👶💖@justinbieber," someone else chimed in.
Another person added: "Oh my god!! She is so cute😍😍 I love her ... "
Of course, papa Jeremy also hopped aboard the love train with his own photo of precious Bay. "We welcomed a healthy baby "Bay Bieber" born at 830 am," Jeremy captioned the shot on Instagram.
Beautiful photos aside, a lot of people had comments about the new addition's name. It's interesting to note that Jeremy deviated from his "J" name tradition — Bay is the only Bieber baby without a letter J name. It's also a moniker I've never heard before, and I think many would agree the name is unique. Either way, fans had *thoughts* about the Bay choice.
"Bay)b (bay)b (bay)b oooohhhhhh," someone joked on to Instagram.
"I'll call her BB, short for Bay Bieber," a person commented.
"Beautiful name! My daughters name is Bay Valentina, we nicknamed her Baysie," a fan wrote.
"Bay omg that's so cute," a commenter chimed in.
Interestingly enough, the name Bay peaked in 2013 at 48 babies per million, according to Baby Center. Bay — a name of either French or English origin (there's some debate on that) — means "auburn-haired." And in Vietnamese, Bay translates to "born on Saturday."
So, is there a possibility Bieber's uniquely-named sibling is inspiring a bit of baby fever in his life? There's a good chance the answer could be yes. "Justin has been thinking about having a family for a while," a supposed source told Hollywood Life. "With friends and family around him having kids, getting married and starting families, Justin has been inspired to do the same." The insider went on to claim that Bieber is especially thrilled to start a family now that Baldwin is by his side. "Justin loves the idea of being a young father and thinks Hailey will be an amazing mom," the insider added.
Well, if the couple does decide to start a family soon, it's safe to say Bieber will be up to the task of fatherhood thanks to his experience as a big brother. And if Bieber needs any inspiration for unique names, he can always hit up his dad Jeremy for advice.