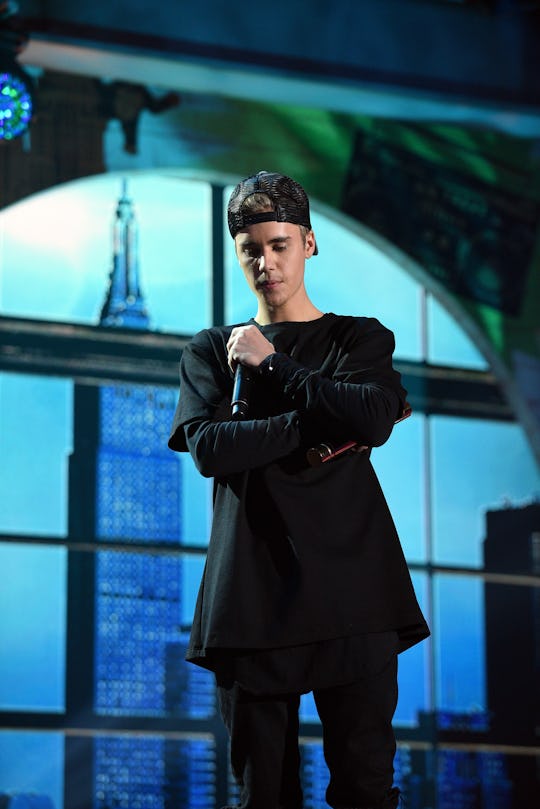 Brian Bedder/Getty Images
Justin Bieber Honors Friend Killed In Paris Attacks, & His Words Are Truly Moving
As the victims of last Friday's terrorist attacks in Paris continue to be identified, new tributes appear each day. The deaths — which have risen to over 130, according to the latest reports — have come to mean there are thousands across Paris and the world who knew someone who was a victim. And this week, it was revealed that singer Justin Bieber regarded one as a close friend. On Monday, Bieber tweeted a message honoring his friend, Thomas Ayad, who died during the attack. According to Billboard, Ayad worked as the international product manager for Mercury Records. He was also on site at Le Bataclan supporting the Eagles of Death Metal last Friday, Nov. 13, when multiple terrorists opened fire on the audience.
Bieber tweeted his gratitude to Ayad for the years they worked together. "You are appreciated and missed," he wrote. "Thoughts and prayers are with your family & friends." And Bieber wasn't the only musician to honor his friend, Ayad. Entertainment Weekly reports that The Rolling Stones guitarist Keith Richards posted a photo of himself with Ayad to Instagram, writing:
My heartfelt condolences go out to the family and friends of Thomas Ayad. Words cannot express the horror of what happened in Paris. I am horrified by the tragic events that took place in Paris last Friday night
Ayad was one of the 89 people killed attending the concert at Le Bataclan. Universal Music Group chairman and CEO Lucian Grange confirmed Ayad's death in a company-wide message. "We are a family," he wrote. "Let's support one another as we grapple with the weight of this darkness."
Image: Brian Bedder/Getty Images