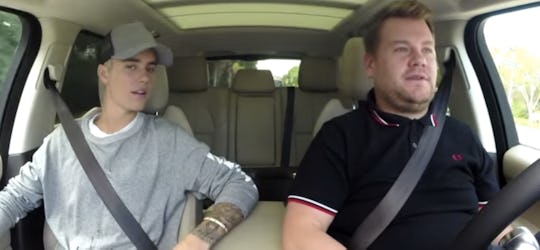 Justin Bieber And James Corden Sing "Ironic," & Manage To Make Bieber Relatable In The Process — VIDEO
A little over a week ago, The Late Late Show's James Corden went viral for his 2015 update of Alanis Morissette's "Ironic." And it seems the late night host is keeping the momentum going with his newest edition of "Carpool Karaoke" with Corden and Justin Bieber, during which the pair duet to a myriad of hits, including, you guessed it, Morissette's "Ironic."
And some would say it's ironic (but not really, because none of us really use that word properly, do we?) just how much we're enjoying this — a video starring who used to be the most reviled man in the music industry before his inarguably catchy Purpose captured our ears and hearts.
And guess what? Now Bieber — a former punk who actually peed in a mop bucket at a restaurant — is now suddenly relatable following his stint on The Late Late Show. Because who when grooving to Bieber's new hits hasn't done something like this?
And who, when emotionally bringing it during Bieber's self-proclaimed shower song Morissette's "Ironic," hasn't done this?
Even if we could never measure up to Corden's idea of the perfect dance move:
Watch the 12-minute clip below — it's worth the time to transform yourself into a Belieber.
And to prove just how far Biebs will go for image rehab, just look at what the guy is willing to wear for the sake of comedy:
As Corden told Bieber, "The only that is annoying is you actually look quite cool." Because, in 2015, it's hard to make Bieber look uncool. And isn't that ironic? (No, it's not literally, but you get my point.)
Image: ABC