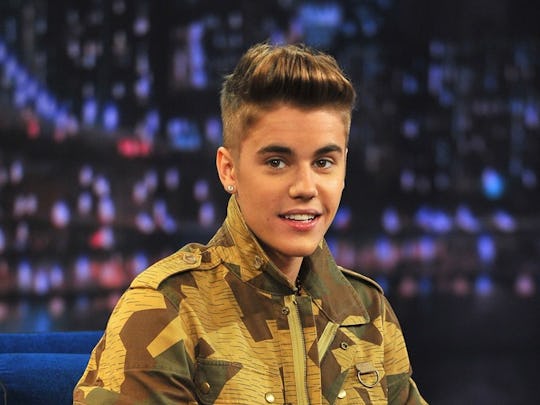 Theo Wargo/Getty Images Entertainment/Getty Images
Justin Bieber & One Direction Are Both Dropping New Albums On Friday & Twitter Is Beside Itself
Can you feel it? That electricity in the air? We're mere hours away from a brand new Justin Bieber album. Purpose, the singer's fourth album, will be released Friday, November 13, the same day as One Direction's new album, Made in the AM. The big question is, who will sell more?
Bieber has already released three singles from Purpose; the upcoming album: "What Do You Mean," "Sorry," and "I'll Show You" have all been well-received. He's also been promoting the album on Ellen all week, and drawing fans in with more than just the music: he hinted about a possible reunion with Selena Gomez on Monday, finally squashed his beef with Seth Rogen backstage on Wednesday, and surprised fans with VIP concert tickets on Thursday.
One Direction has also released three singles from Made in the AM: "Drag Me Down," "Perfect," and "Infinity." This is their first album since Zayn Malik quit the group, and the remaining four plan to take an "extended hiatus" after the album's release. This might be it for them, at least for a while, so the pressure is on to make it a good one.
So whose album will sell more copies? "It seems that they are running neck-and-neck," Alliance Entertainment senior vp of purchasing and marketing Laura Provenzano told Billboard. "Their numbers are the same in terms of IOs [initial orders] from our accounts." But Carl Mello, head buyer for Newbury Comics, tells them "One Direction has a bigger recent fanbase, but Bieber has an actual huge hit single from the album, so he has the comeback momentum going for him. Also, Bieber appears to be pulling off the George Michael/Justin Timberlake gambit, artists who appealed to teen fans crossing over to a slightly more discerning music fan base."
Let's settle this by taking it to the fans. What is Twitter saying?
1D Fans Are A Special Kind Of Intense
They're Also Using This As A Pretty Good Excuse To Just RT Photos Of Harry
And Some Of The Excitement Is Just Plain Sweet
The Biebs' Fans, On The Other Hand? ... OK, They're Equally Psyched
And According To This One Fan, The Album Is Already A Hit
No matter what happens tomorrow, it's safe to say it's gonna be a big day, guys... brace yourselves.
Image: Theo Wargo/Getty Images Entertainment/Getty Images; Giphy