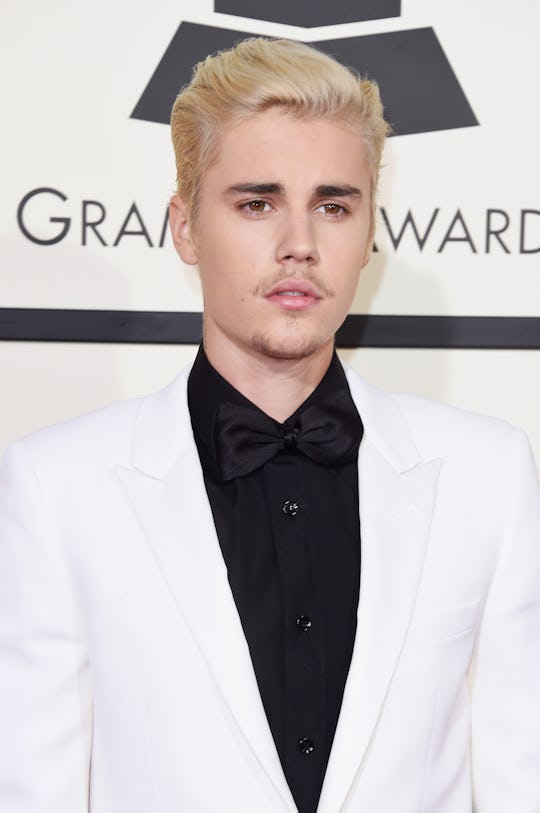 Jason Merritt/Getty Images for NARAS
Justin Bieber Red Carpet Arrival Revealed A New Side To The "Sorry" Artist
Before we even get into tonight's show or what Justin Bieber wore on the Grammys red carpet, I just want to make one very important thing known: I wasn't a fan up until this year, but now I pledge my allegiance to the almighty Beliebers like it's nobody else's business. I get it, guys. Really, I do. I get why you all love the Biebs. I love him now, too. OK, now that that's out of the way, let's move on. When the "Sorry" singer showed up at the 2016 Grammys award show, his look confirmed what we've all been thinking: the Biebs isn't a baby anymore. Though the existential question on whether or not it's too late now to say sorry still remains, one thing is for certain: Bieber's Sorry Tour officially ended after Biebs slayed the red carpet at the Grammys preshow. (And I, for one, think we're all better people now because of it.) To top the entire thing off? Biebs brought his little brother. So no, I am not OK.
We can all hem and haw about our favorite stars and their fashion choices, but there's also something largely metaphorical about the red carpet fashions. What these artists wear to the show runs a lot deeper that just surface-level materialism. Of course it's fun to say she looked great or that you didn't love his outfit, but for someone like Justin Bieber, what you wear to the show sends a statement, both literally and figuratively. It sets the standard for how you'll be treated and for how you'll treat yourself going forward. For Bieber, someone who was very much adored as teeny-bopper with catchy pop hits, to someone who was notoriously hated for behaving like a pompous entitled teen, award-show style sets the bar higher. Even though his music made it clear, his outfit verifies it: Bieber's all grownup now.
Take a look for yourself:
It's safe to say, once and for all, that Biebs has shed his boyish look and, as far as style goes, he's now in a league with the Ushers, the Kanyes, the Justin Timberlakes, and the John Legends of the music industry.